SAS Strike Force Keeping Simon Mignolet Sharp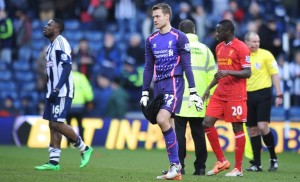 It must be hard to get up and go to training every day knowing that it's your job to keep the likes of Luis Suarez and Daniel Sturridge at bay – with just under 30 Premier League goals between them, you'd think it'd be disheartening trying to stop them day in and day out, but Reds 'keeper Simon Mignolet relishes the opportunity to train with the prolific pair.
"It's nice to work with Luis and Daniel day-in day-out as it makes you better as a keeper" enthused the Belgian. "We all know what they can do and it's unbelievable. I see that quality every day. When you are one v one with strikers of that quality you learn a lot of things." If nothing else, you'd get pretty good at picking the ball out of the net.
Mignolet has been a rock since moving to Merseyside over the summer, but a difficult December saw a slump in form that Liverpool supporters weren't expecting from the 25-year old, but with Liverpool posting an unbeaten record in January, the Belgian shot stopper looks to be getting back to his old self. "I had a difficult month but you are going to get them as a football player," he conceded. "You are never going to get everything go your way and you have to accept that."
A clanger from Kolo Toure gifted West Bromwich Albion a share of the points in Sunday's 1-1 draw, but the 'keeper refuses to blame the Ivorian for the blunder. "You play with 11 men, you win with 11 men and you lose with 11 men. That's just how it goes in football" mused the 'keeper. "Every goal you concede is a disappointment. But we win and lose games altogether as a unit." Liverpool have the chance to get back to winning ways in a big way when Arsenal visit Anfield this weekend – and Mignolet will have a real opportunity to show what he's learned facing off against SAS every day.