Skrtel Confident Reds Can Beat Arsenal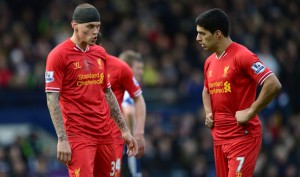 Arsenal roll into town this weekend with an impressive record at Anfield; the Gunners haven't lost on Merseyside in their last five visits, but Reds defender Martin Skrtel is looking to put a serious black mark on that shiny statistic with three-points in front of the Liverpool faithful.
The Slovakian, a mainstay in Brendan Rodgers side since the early days of the season, partnered Mamadou Sakho as the Anfield outfit lost 2-0 in the reverse fixture at the Emirates Stadium – a match which saw the Gunners race five-points clear at the top of the table. Going into this weekend's meeting, Arsene Wenger's side are still sitting at the Premier League summit, though their lead has been cut to two points with both Manchester City and Chelsea in hot pursuit.
While doing either of those clubs a favour isn't high on Skrtel's list of priorities, the Reds will be looking to keep pace in the race for Champions League football after a disappointing 1-1 draw against West Bromwich Albion last Saturday stunted their momentum. "I am disappointed to be honest; we scored early and controlled the game but we only have a single point," said the big defender when asked about the Baggies match. "However, I am confident we can beat Arsenal because we definitely have the strength to do so."
Liverpool go into the weekend with a two point lead over fifth placed Everton who meet sixth placed Tottenham, who the Toffee's hold a one point lead over, on Sunday – it's safe to say that getting something against the Gunners is of the utmost importance. "They are the leaders at the moment but we can give them a hard time" continued Skrtel. "It won't be an easy game but I am sure we can do something in front of our fans."
As long as that something ends with us picking up at least a point, it'll be mission accomplished.