Away Allotment for Arsenal FA Cup Clash Cut Amid Lower Ticket Prices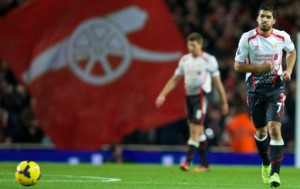 Following Arsenal's decision to class Liverpool's upcoming visit to the Emirates Stadium in the FA Cup as a Category B fixture – saving the travelling fans a bundle of money in the process – they've also decided to reduce the ticket allocation made available to the Reds.
FA rules stipulates that 15% of the grounds capacity be allotted to opposition fans, but the Gunners have announced that only 5,168 tickets will be made available for Liverpool supporters instead of the required 9,000 that should be put aside for Reds fans. It goes without saying that this hasn't gone done well at all with supporter union Spirit of Shankly once again taking the lead.
"We are disappointed at today's announcement that we will only be receiving 5.168 tickets for the forthcoming FA Cup match against Arsenal" a statement read. "As a result, we have immediately re-written to both clubs today to ask them to explain this decision, given the absurdity that a football club can designate an area as being available to away supporters yet then raise fears over potential safety issues."
Last week, the group appeared to have won a major victory for football fans when they successfully convinced Arsenal to change the designation of the fixture and save the travelling fans from paying almost £100 per ticket, but the reduction of the ticket allocation comes as a bit of a surprise – something Spirit of Shankly will look for clarification on. "If necessary we will seek further information from the local authority, similar to action recently taken by our fellow supporters trust at Tottenham" continued the statement.
This, of course, begs the question if Liverpool's allocation would have been reduced had the pressure not been there for Arsenal – one of the most expensive grounds in the world to visit – to offer a far more reasonable ticket price?