By the Numbers: Liverpool vs. Arsenal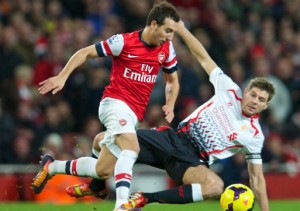 After a disappointing draw with West Bromwich Albion stunted Liverpool's forward momentum last weekend, the Reds will look to get back to winning ways on Saturday when they host Arsenal in one of the choice matches of the weekend.
The reverse fixture saw the Gunners win 2-0 and open a five point gap at the top of the Premier League, but things are a bit tighter these days with a mere two points separating the London side from their closest chasers. Liverpool, on the other hand, will be looking to keep Everton and Tottenham at bay to hang onto fourth place as they go looking to qualify for the Champions League for the first time since 2009. Although the visitors hold a slight edge going into this one, when you have a look at the numbers and some of the key match-ups, it looks like this is going to be a tight one.
It's a bit odd seeing Liverpool with more goals scored than Arsenal; for a team that had such problems finding the net in the past, the Reds have opened the floodgates under Brendan Rodgers this season with 29 more goals scored than conceded, giving them a 3 goal advantage over Arsenal who, surprisingly, have conceded 8 goals less than their hosts on Saturday. An astounding 19 of Liverpool's goals have come from set-pieces with Luis Suarez a major force to reckon with from dead-ball situations.

Arsene Wenger's team hold a slight advantage over Rodgers side with 2% better average in both possession and pass accuracy and 3% in shot accuracy, but the Reds have been better creators with almost a chance and a half more than the London side per match.
Both 'keepers have had excellent seasons thus far, but Arsenal shot stopper Wojciech Szczesny holds a slight edge over his counterpart Simon Mignolet when you look at the numbers. The Pole has 4 more clean sheets than the Belgian and has allowed less than a goal per match – though Mignolet has had to save slightly more shots on average per match.
Martin Skrtel has been a rock for Liverpool since coming back into the team, but Arsenal defender Per Mertersacker has posted up better numbers than his Slovakian counterpart over the same amount of matches this season. The big German has won 4% more duels, 2% more of his tackles and 3% more headed duels all while completing 2% more passes.
The middle of the park is always an important battleground; between Jordan Henderson and Santi Cazorla – two of the most influential players in either team – there's a bit of a surprise. Although the Liverpool man has scored 3 goals less than his Arsenal counterpart, the English have outdone the Spanish in the creativity department with Henderson bagging 3 more assists and creating 12 more chances than Cazorla, though he's played 6 more matches.
Liverpool have been absolutely dominate up-top and the comparison between Daniel Sturridge and Olivier Giroud is like comparing night to day. In 6 less appearances, the Reds man has bagged 4 more goals than his Arsenal counterpart all the while finding the net with 15% more of his shots and finding his target with 11% more of his passes. The Frenchman has been better in the creativity department though with 3 more assists and 10 more chances created.
–Steven
All stats courtesy of the good people at Squawka. Be sure to stop in before the match for the Match Build-Up, a full Match Preview and the confirmed Starting Line-ups ahead of kick-off. This is going to be a big one…