There'll Be No Shelter Here: Arsenal Preview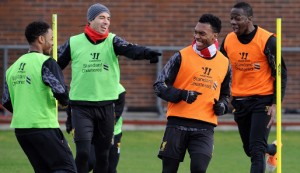 Arsenal have been enjoying their trips to Anfield; although the Reds remain a force to be reckoned with at home, the North London side have held a baffling hoodoo over the Merseysiders with Peter Crouch's marvelous hat-trick back in March of 2007 coming in their last victory over the Gunners in front of the Kop.
With that in mind, absolutely nothing will be assured come Saturday; this has been a season of surprising results for the Reds with a number of curses vanquished, doubts alleviated and bushels of goals scored as Brendan Rodgers maps out a return to the lucrative fields of the Champions League. The Northern Irishman may have ruled the his side out of the title race, but a top-four finish, rather than the crown, has always been the aim and a win against Arsenal tomorrow will only strengthen their claim to a return to the most prestigious club competition in Europe.
There's only 14 games left in the season and crunch time is rolling around quickly. Where the Reds stumbled last weekend, playing out a 1-1 draw with West Bromwich Albion, Arsenal kept the train rolling as Alex Oxlade-Chamberlain scored on either side of the half to heap misery on relegation fodder Crystal Palace. Three points ensured them a return to the Premier League summit, but Gunners boss Arsene Wenger will be keeping a well trained eye on the chasing pack – he's seen more than one title bid derailed by an untimely reversal.
A win on Saturday for his side could be the springboard Arsenal use to define their season with an important run of matches just over the horizon. The Gunners host Manchester United midweek before facing Liverpool again, this time in the FA Cup, on Sunday. Champions League holders Bayern Munich visit a mere three days later and then they wrap up their home stand when Sunderland come to town. If the pitfalls to come weren't immense enough, Arsenal could find themselves in the hole already if they fail to pick-up points against Liverpool tomorrow.
Despite absolutely spanking their immediate rivals for fourth place – beating both Everton and Spurs by wild margins — points against those above them in the table have been hard to come by for Brendan Rodgers; the 2-0 reversal in North London back in November is the last time his side failed to score in a match. If the Reds are going to break the Arsenal hoodoo, tomorrow is as good a time as any; Liverpool are unbeaten in their last ten matches at Anfield in all competitions with the 2-2 draw with Aston Villa the only blight on a run that includes nine wins.
Keeping the SAS partnership well supplied, and keeping a lid on their knack for making defensive mistakes, will be key for the Reds if they're going to get away with three points tomorrow. Per Mertesacker and Laurent Koscielny have been one of the best center halve pairings in the Premier League this season, but Mikel Arteta could prove far more important than the two of them if he's able to cut out passes to Liverpool's front line. Steven Gerrard and Jordan Henderson will play key roles in not only the supply chain, but the defense as well. The Captain showed how marvelous he can be in a deeper role in the 4-0 win over Everton, but if Arsenal is able to get their passing game flowing, he's going to need help at the back and Henderson will have to track back quickly to help out on the counter-attack. Liverpool has been shaky on the back foot, and with a league leading 29 errors leading to a goal or an attempt on goal, they'll have to keep their focus if they're going to keep the Gunners at bay.
Three points takes a far greater precedence over entertainment at this point in the season, and though we've seen these two sides play out some classics in the past, either side would be more than content with a drab 1-0 win. Excitement be damned; points –and the all important momentum — are what we're after. Smacking Arsenal a good one, and in the process making the title race even more interesting, are just side notes at this point.
–Steven
Be sure to stop in before kick-off for all the pre-match news and the confirmed starting line-ups.