Raheem Sterling vs Arsenal: Video and Stats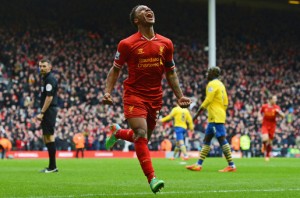 Maybe he was just caught up in the moment, but following Liverpool's destruction of Arsenal on Saturday, Reds boss Brendan Rodgers hailed the talent of Man of the Match Raheem Sterling, calling the youngster the best winger in England.
"He has just turned 19 and I don't think there is a better winger in England at this moment in time" said the Reds boss. "Oxlade-Chamberlain is a brilliant player but you look at Raheem and he was absolutely phenomenal." That particular tag may be a bit premature, but when you consider his age and his blindingly quick upward trajectory, the Northern Irishman isn't far off the mark right now — and it's easy to imagine it'll be the undisputed truth in a few years.
Video by LFC Tiki Taka
The "Man of Steel" doesn't look that hard

Raheem Sterling won't ever forget that match; with 2 goals scored against former league leaders Arsenal, the 19-year old has bumped his tally for the season to 5 goals. He certainly wasn't shot shy; over his 90-minutes on the pitch, he took 5 shots and put all of them on target.

It wasn't all roses though with the winger completing only 65% of his passes — quite poor compared to the normal 80% we've come to expect from him. The 19-year old missed both his attempted through-ball and long-ball, failing to create a chance for another player the entire match. He was good at pulling in fouls though, picking up 4 of them without conceding any at all.

On the back foot, he showed some improvement and won 60% of his duels — a step up from his usual 52%. The winger was successful in 1 out of the 2 tackles he attempted and 3 out of his 6 take-ons, making no defensive errors in the process.

Not too shabby for a 19-year old.

Stats courtesy of the good people at Squawka
"Today, we were against a team that are very experienced and have led the league for a large part of the season" said Rodgers as he explained the subtle tactical tweaks that brought Arsenal apart at the seams. "We switched Raheem Sterling over to the left side to penetrate and to control Sagna a little bit. Overall, the players were tactically brilliant and you saw their appetite and hunger for the game. That was important for us."
In what was arguably our performance of the season, young Raheem Sterling played his part brilliantly and was rewarded with a pair of well taken goals. As his movement gets better and he learns how to finish like a pro, he's going to be a serious force to be reckoned with in the future.
"This year was going to hopefully be another big step for our development. Look around the team – we've got 19-year-old players, Raheem Sterling was incredible" enthused the Liverpool boss. "We had an 18-year-old coming on, Coutinho is 21, young Jon Flanagan is 20 years of age. It's a very young side, but with a wonderful appetite for the game and a wonderful ability to learn."
It's startling to consider the possibilities — not only for Sterling, but for the rest of the side. The emphasis on developing youth that FSG and Rodgers hailed as a cornerstone of our future is starting to pay off in spades, with each of the players involved yesterday beginning to show their potential. With a couple of additions and a little more time, this could be the title winning team we've all been dreaming of.
–Steven
Enjoyed this post? Share it on your social media platform of choice.