Gerrard Just Doing What the Boss Says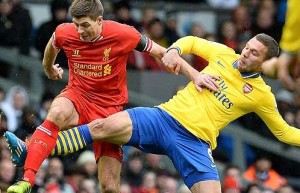 Liverpool captain Steven Gerrard had a lot to say following his sides destruction of Arsenal on Saturday; calling their display "definitely in the top three performances I have been involved in" and saying that they "demolished a top team there from start to finish" is one thing, but talking up the Reds title chances is a complete other.
In the day leading up to the Gunners visit to Anfield, Brendan Rodgers conceded the title race after bullishly declaring only a few weeks early that they'd never give up the fight. Cementing a top four place has always been the ultimate aim, but with the Anfield outfit top of the league on Christmas day, there was more than one fan — and player — dreaming of lifting the Premier League trophy when May rolled around.
Although he likely harbours hopes that are vastly different from what he's saying in the press, Steven Gerrard isn't about to vary from his managers declaration. "According to Brendan we are not," said Gerrard when asked if he thought Saturday's win over Arsenal put them back in the title race. "Listen, he said we are not so we are all behind Brendan" the Liverpool captain continued. "We do what he says and he says we are not in the title race, so we carry on pushing for the top four and see where it takes us."
With the 33-year old midfielders career nearing the end, lifting the one trophy that's eluded him during his storied career must be the only thing on his mind — still, he's keeping his mind focused on the here and now. "You can set markers and you can have one-off games but it means nothing if you don't continue to play well and get something from it at the end of the season," explained Gerrard. "We aren't going to look back at the end of the season and think 'How good were we against Arsenal?' if we never got the top four.
Smart words from a strong leader.