Sterling in Line for World Cup Call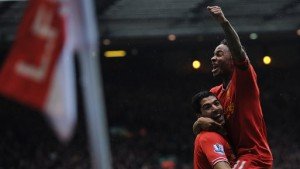 With Arsenal winger Theo Walcott definitely ruled out of England's World Cup campaign, Liverpool youngster Raheem Sterling has emerged as a prime candidate to take his place in the Three Lion's squad in Brazil this summer.
On the back of his brace against the Gunners on Saturday, the talk in the papers is that the 19-year old will be called up to the senior squad by Roy Hodgson for England's friendly clash with Denmark at Wembley on March 5th with a view towards a spot in this summer's showpiece tournament. There's no chance that Walcott, who was ruled out with a knee injury during Arsenal's 2-0 win over Tottenham Hotspur at the beginning of February, will be fit in time to make the trip, making this golden opportunity Raheem's to lose.
The youngster, who picked up his first senior cap at only 17-years of age, has been in scintillating form for Liverpool this season and picked up his fourth and fifth goals of the campaign with a double against the Gunners on Saturday as the Reds ran out 5-1 winners. Sterling found himself on the fringes of the first team at the beginning of the season, but with loan signing Victor Moses failing to impress, he snatched the opportunity to show Brendan Rodgers – and the world – what he could do with both hands and hasn't let go since.
"The best way of proving yourself is on the pitch" said the winger when asked about his struggles during the early half of the season. "I had to be more confident. I wasn't confident enough to have a shot myself and instead I'd pass it to someone like Luis Suarez." You could see the ruthless streak on Saturday when, for his opener, he beat teammate Daniel Sturridge to the ball to tap home and, for his second, he followed up his own rebound to beat Arsenal 'keeper Wojciech Szczesny. "I just said to myself that I had to step up and start running at defenders again; taking responsibility" he continued. "I've also had the chance to do that week in, week out. I can feel a bit of momentum now."
It looks like that momentum is going to carry him all the way to Brazil.