Fulham Build Up: Meulensteen Building a Base, Holtby Looking for Survival and Bent Kicks On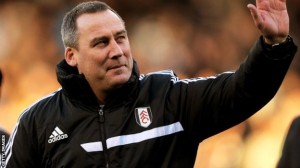 I've never been a person big on schadenfreude, but I have to admit that seeing Fulham heap even more pressure on Manchester United with a 2-2 draw at Old Trafford on Sunday was a beautiful thing.
On the back of Liverpool's 5-1 victory over then league leaders Arsenal, you'd think the weekend couldn't get much better, but then there was Sir Alex Ferguson's reaction from the stands after a late Darren Bent equalizer snatched an unlikely point for the Cottagers. Although the London side remain rooted to the bottom of the table, a mere three points adrift of safety, the morale boost that comes with getting a result at Old Trafford will serve them well in the weeks to come – though hopefully not against Liverpool on Wednesday.
With the Manchester side on a serious down slope, Fulham boss Rene Meulensteen – an integral part of the Old Trafford set-up under former manager Sir Alex Ferguson – saw an opportunity to keep last season's champions at bay. "When I saw Manchester United today I thought the game plan was quite straightforward – get it wide, get it in," he mused following the 2-2 draw. "If you're well organised and the goalkeeper is in good positions to come and collect the ball it can be easy." Words like "easy" and "straightforward" are sure to be missing from his vocabulary when Liverpool come knocking on Wednesday.
"We have got a massive one ahead of us. But hopefully this gives us a good base to kick on," said Meulensteen ahead of the midweek match with the Reds. "That's why these players want to play in the Premier League – for these sort of games." Relegation has become a real possibility for the London outfit with only 20-points accumulated to date, but the Dutchman will be able to take heart from the dogged determination his players showed on Sunday – especially on-loan Tottenham Hotspur midfielder Lewis Holtby.
The German born Everton fan – who has shown flashes of brilliance since moving to Craven Cottage for the remainder of the season – is relishing the opportunity to meet Liverpool and build on his good performance against United. "I am definitely looking forward to Wednesday, everyone is" said the 23-year old. "We are going to need the same focus because a team like Liverpool have the confidence to destroy you, as we saw against Arsenal." A 20-minute barrage in the opening exchanges saw Brendan Rodgers side put four goals past the Gunners, leaving them shellshocked and in disarray. Despite the impressive fire power on display, Holtby believes that the Cottagers will be able to cope with the in-form Reds. "We did our jobs against Manchester United though, and we have the confidence to survive against Liverpool too."
With the hosts leading 2-1 deep into injury time, Darren Bent headed home a Kieran Richardson shot to secure the points for Fulham – something he believes will help spur his side on. "It's a massive point, I'm speechless really" said the former Aston Villa man in the wake of scoring the equalizer. "We put a lot of effort in and rode our luck but came away with a point. It was hard. It's never easy coming here so hopefully we can kick on now for the rest of the season." There's a long, hard road ahead for Fulham and meeting Liverpool on Wednesday may not been the best side for them to come up against when they're looking to build their confidence.
Not that you'll get any arguments from the travelling Kop. Despite their heroics at Old Trafford, the Cottagers look ripe for the picking; hopefully we'll be able to put our away day blues behind us and show United how to take out a team that's propping up the table. You know, just so they can see how it's supposed to be done.
–Steven
Be sure to pop in before the trip to Craven Cottage for a full match preview and the confirmed starting line-ups ahead of Wednesday's clash with Fulham.