GAME ON! Liverpool's Fulham Trip is on After Tube Strike Suspended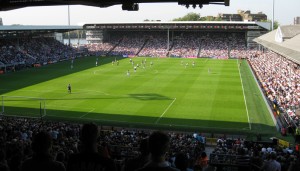 There's some good news coming out of London this afternoon with both the RMT and TSSA unions agreeing to suspend action on the 48-hour strike that would have disrupted public transport in the capital.
Although Arsenal's meeting with Manchester United – and all the other midweek matches going on in London – were slated to continue without problem, the logistical headache the temporary postponement of public transport service could have caused threw the Reds clash with Fulham in doubt with the Craven Cottage outfit unable to guarantee the availability of stewards, food vendors and other vital ground staff. The crisis, thankfully, has been averted.
The Cottagers, who were holding out on making a decision on whether or not the match would go ahead until 3:00pm, will now be able to organize as normal – though boss Rene Meulensteen said his preparations hadn't been disrupted by the proposed delay. "As far as I am concerned the game will go ahead," said the Dutchman prior to the 48-hour strike being called off. "It has not been too much of a concern to us, it's not something we could allow to affect us."
Liverpool will now travel to the capital to prepare ahead of tomorrow's clash with the 9:00pm walkout time for the union transport workers no longer a concern. The Reds are looking to build on their 5-1 thrashing of Arsenal on Saturday as they look to consolidate their top four position and take another step towards securing Champions League football next season.