Aly Cissokho Hails Embattled Kolo Toure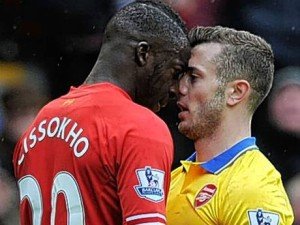 When the big Ivorian sliced his clearance right past Simon Mignolet and into the Reds net on Wednesday night to give Fulham the advantage, there was more than one supporter who rolled their eyes and muttered something along the lines of "typical".
Where Aly Cissokho has been improving and looking more reassured match by match, Kolo Toure has been disintegrating. The mistake against the Cottagers on Wednesday night came on the back of another against West Bromwich Albion in which the experienced defender passed straight to Baggies striker Victor Anichebe, handing the former Everton man the equalizer on a silver platter. Despite Kolo's mounting indiscretions, Cissokho has hailed the Ivorian's influence on his game as the on-loan Valencia man continues to adapt to life in the Premier League.
"Kolo has been a big influence on me," enthused the French fullback. "He has marked my card on many occasions. For example, he told me what to expect when we went to play Stoke at the Britannia. He explained to me it would be windy, the ball would be in the air all the time and I'd be up against big, strong lads." In a team made up of younger players, the experience of the likes of Toure and club captain Steven Gerrard has played a vital role according to Cissokho.
"There are a lot of youngsters in the squad and people like Kolo and Steven Gerrard are very important, especially in the middle of a match" the French defender continued. "They are a voice out on the park, telling us to slow things down or play a longer game."
Although the former Gunner's man is expected to be replaced by returning vice-captain Daniel Agger, Cissokho is more than likely to retain his place in the squad when Liverpool meet Arsenal in the FA Cup tomorrow. The French fullback has been improving in recent weeks and we'll be looking for another assured performance at the Emirates on Sunday.