Rodgers Unhappy with Howard Webb Performance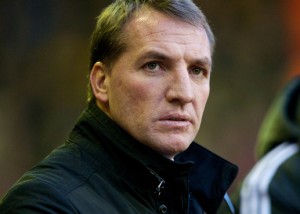 Liverpool boss Brendan Rodgers isn't exactly the whinging type. Sure, he picked up a pretty hefty fine after complaining about the appointment of Greater Manchester born Lee Mason in the Reds 2-1 defeat to Manchester City on Boxing Day, but that was a bit of a one off for the Northern Irish man.
In the wake of his side's acrimonious FA Cup exit to Arsenal yesterday, the Reds boss took aim at the Anfield outfits old foe — Howard Webb. The official, who will travel to the World Cup in Brazil this summer as England's top referee, had a shocker for both sides, but Rodgers feels aggrieved that the visitors weren't awarded a second penalty when a clumsy challenge from Alex Oxlade-Chamberlain felled Luis Suarez in the area.
At 2-1 down the decision to not award the Uruguayan a second penalty after Lukas Podolski's challenge on Suarez saw Steven Gerrard convert from the spot is a pivotal, and hotly contested, moment in the match. "I thought that was quite an easy decision for the ref" said Rodgers when asked about Webb's decision to wave play on. "Luis has a touch, gets around him and it looks a blatant penalty."
Webb, who also chose not award the Liverpool captain a second yellow card deep in the closing stages for a rash challenge and made no mention of a high, studs up challenge from Martin Skrtel on Arsenal substitute Santi Cazorla, has raised the ire of both sets of fans with his baffling decisions. The Liverpool boss, likely wary of the Mason incident, has chosen to stay a bit more level headed on the incident.
"For me, it's gone. You can't change it, you can't affect it. I'll speak to an assessor" continued the Northern Irishman. "It would be nice to know why it wasn't given, because it can be a defining moment in the game."