Brendan Rodgers on FA Cup Exit: Post Match Interview and Raising Expectations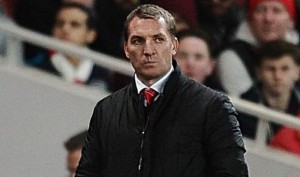 Despite the outcome being the same, our trips to the Emirates Stadium this season saw Liverpool put in performances of contrasting quality. A 2-0 reversal at the hands of the Gunners last November left Brendan Rodgers scratching his head at Arsenal's ability to dominate a side that is set up for domination, but yesterday's FA Cup exit to Arsene Wenger's North London outfit was a different story altogether.
After the 5-1 pasting the Reds handed out at Anfield, Arsenal needed a performance in front of their home fans, and despite progressing to the next round, they were decidedly second best to a Liverpool side that just couldn't find a slice of luck. "I thought our performance level was outstanding," said Reds boss Brendan Rodgers in the wake of his sides exit from the cup. "I remember being sat here a number of months back after the league game and Arsenal were clearly the better side that day." Yesterday, it was the complete opposite.
Video by Tubenewstv
Alex Oxlade-Chamberlain gave the hosts the lead within 20 minutes with an instinctive effort before he played creator on the other side of the half, cutting back for Lukas Podolski to sweep home. Steven Gerrard pulled on back from the penalty spot after the German's clumsy challenge on Luis Suarez set up a frantic finish, but it wasn't to be for the visitors despite enjoying the lion's share of both chances and possession.
"It's an incredible club" said Rodgers, expanding on the difference that a year at the helm makes. "I have learned in my period of time here, having worked right inside it, what a real institution it is. The reality of where it was at and where we wanted to be was two different places when I came in."
Few teams travel to the Emirates Stadium and test Arsenal in such a way, but with the Reds on a steep upward trajectory, the London outfit were lucky to hang on. "We're just trying to progress it and build the club back again, and in a way with young players and developing a style of football that entertains our great supporters" continued Rodgers. "The expectation is there because we have done so well."
Although Liverpool have been tipped as dark horses for the Premier League title, the FA Cup was their last realistic shot at silverware this year; still, many will see their dramatic exit from the cup as a blessing rather than a setback. With only the league to focus on, the Reds can now zero in all their efforts on securing Champions League football for next season — something they seem destined to do.
With only 12 games left in the season, the Merseysiders hold a slim 3-point advantage over closest chasers Tottenham Hotspur with a meeting between the two clubs — a potentially season defining 90-minutes — still to come at Anfield in the coming weeks. "We'll just continue with the confidence and the belief that we have been playing with" enthused Rodgers. "You saw it today and if we play with that aggression, we're going to have a really exciting 12 games to finish the season."
Exciting; heart-stopping; dramatic; alcoholism inducing; it's going to be a couple of months we won't forget for a very, very long time.
–Steven