Rodgers Provides Injury Update on Johnson and Others Ahead of Swans Clash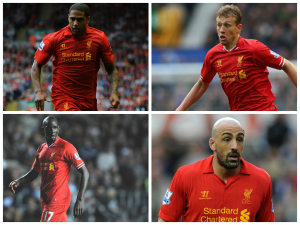 We saw our injury crisis ease a bit last weekend with vice-Captain Daniel Agger returning to the starting-eleven for last weekend's 2-1 reversal at the Emirates Stadium, and in the buildup to Swansea City's visit this weekend, Reds boss Brendan Rodgers has confirmed that Glen Johnson will rejoin the squad for Sunday's clash with his old side.
The fullback, who was ruled out "indefinitely" as he recovered from a number of ailments, has returned to the training pitch this week with an eye to making a return this weekend. "Glen has been back training," said Rodgers in his pre-match press conference. "According to him, he has felt as good as he has done for a long time – which is great. He has looked very good in training and he'll come into the squad."
Although he's not nailed on to start, Johnson's return will come as a boon for both Liverpool, who look well placed to qualify for next seasons Champions League, but also for the English national team who have a friendly with Denmark coming up in March as they prepare for this summer's World Cup in Brazil.
Johnson wasn't the only player the boss provided an update on; he also said that Lucas is "recovering very well" but won't be fit enough to make the squad and that Mamadou Sakho, who has been out since the end of December, is a "week or so" away and has been working with the rehabilitation team on the field. Unfortunately, there has been no positive movement on Jose Enrique with the Spaniard visiting a specialist in America as he continues to recover from knee surgery. We're looking to try to put an end to his injuries this season" said Rodgers when asked about the Spanish fullback. "We have sent him out to get some specialist advice on that. But he's nowhere near playing yet."
With only twelve matches remaining in the season, the Spaniard might have to wait until next term before he's fully ready to pull on that famous Red shirt again.