Brendan Rodgers on Swansea City Win: Post Match Interview and Getting Defensive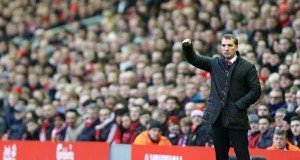 To be fair, we're not used to being pressed quite that hard at Anfield; in a glimpse of what could be on the way when the likes of Tottenham Hotspur, Chelsea and Manchester City visit Merseyside, Swansea City gave us the kind of test that Arsenal and Everton never looked like providing.
Although the Reds came away with the points, Garry Monk's sides ability to draw level was a bit disconcerting, with Liverpool's offense once again proving to be their saving grace."It was an excellent three points for us," Brendan Rodgers said in his post-match press conference. "Yet again the offensive side of our game was very good to get four goals." And, it has to be said, very poor to concede three.
Video by TomLFCHeavenHD
Daniel Sturridge and Jordan Henderson sent hearts racing in a pulsating opening twenty minutes as the Reds opened a two goal gap over the Welsh side, but a pair of goals in four minutes through former Liverpool midfielder Jonjo Shelvey and Ivorian striker Wilfried Bony saw the Jacks draw level.
"We didn't defend anywhere near well enough today in aspects of our game" the Anfield boss said bluntly. "But to come out of it with the three points, we're very pleased. It was a very good win against an outstanding team."
After downing Arsenal and Everton in such emphatic fashion, putting Swansea to the sword shouldn't have been at all out of the question, but there were points where you questioned if three-points were on the cards for the hosts. "Today we had to fight" explained Rodgers. "Swansea drew in the week and should have beaten Napoli with an outstanding performance. They have come here and demonstrated that they are a good side."
With only Steven Gerrard and Jordan Henderson in the midfield, Swansea quite enjoyed their time in the middle of the park. Shelvey, in particular was afforded acres of space and, until being withdrawn at the break, enjoyed the run of the park. Simon Mignolet was once again shaky and unable to take command of his area, while the defensive pair of Daniel Agger and Martin Skrtel looked less like an assured, experienced pair and more like wet behind the ears rookies.
"I'm not overly happy with our defending today, to be honest. It's not coaching; some of the things that we have conceded goals in, you can't coach that" continued the Northern Irishman. "There's a feeling when you're in the game of how to defend. You have to use that experience to be able to defend properly. I've always said that since I've been here. Today we had moments in the game that we weren't so good at."
We're obviously lacking organization at the back; it's more controlled chaos than anything else with a dominating, decisive presence in a player like Jamie Carragher — or even Pepe Reina — sorely lacking. "Again, we'll analyse the other side of our game and look to improve it" said Rodgers introspectively. "I think it's not something that is planned. You see how we press the game and how aggressive we are in trying to get the ball back."
For the time being, I'd be happy to concede three and score four in every single outing. Anything that get's us full points and inches us one step closer to Champions League qualification is fine by me — let's finish in the top four and give Rodgers some cash to sort this out in the summer.
–Steven
What's going to fix our problems at the back? Do you trust Mignolet? Are Agger and Skrtel still up for this? What would you give for a 25-year old Carragher? Let us know in the comments or hit us up on the Facebook or the Twitter; we're on there too.