Toure and Mignolet Looking for "Calm" and "Focus" ahead of Southampton Trip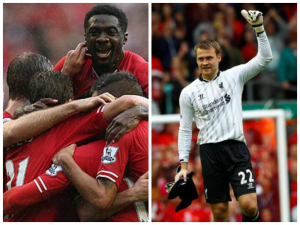 Liverpool's calamitous defending fell under the spotlight once again at the weekend when the Reds barely snuck past Welsh strugglers Swansea City at Anfield and it's sure to be a point of discussion in the days leading up to Saturday's Premier League meeting with Southampton.
After racing to a 2-0 lead within the first twenty minutes, the visitors pulled back two goals in four minutes to get back on terms. Daniel Sturridge restored the hosts lead before the break, but it was up to Jordan Henderson to seal the points after Wilfried Bony pulled the Jacks level once again. Although they ended up taking full points – and opening a six point gap over Tottenham Hotspur – the display only confirmed that poignant questions need to be asked of what's going to be done to rectify a potentially disastrous situation.
On a more positive note, Brendan Rodgers side are now only four points off Premier League leaders Chelsea going into the final 11 matches of the season. Kolo Toure, who has been dropped to the bench following Daniel Agger's return to the side, has called for the side to keep up the pressure on their neighbours at the top of the table. "We just need now to keep calm and do what we have been doing, if we continue that we will get the same results," the Ivorian told the Liverpool ECHO. "There are going to be some tough games," he continued. "Southampton is a tough place to go but I think we can score goals and defend well as a team and we are working hard."
The Reds have hard time at the back this campaign, so far conceding 35-league goals; the second worst record in the top half of the table. Although the Anfield outfit look well placed to qualify for the Champions League for the first time since 2009, 'keeper Simon Mignolet says they'll have to keep their focus if they're going to finish fourth – or have a tilt at the title. "We are in a good position at the moment, but with 11 games to go there are still a lot of things that can happen," said the Belgian. "We need to stay calm and just focus on our next game at Southampton. That's going to be a very difficult game for us and we need to prepare well."