Luis Suarez to Wear Bizarre Knitted Adidas Football Boots against Manchester United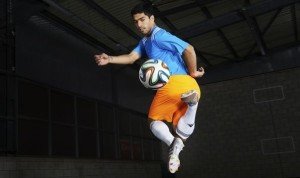 What Liverpool fan doesn't love Adidas? The love affair with the German sportswear company stretches as far back as time itself with hieroglyphs of Scousers searching for the rarest pair of trainee's adorning the walls of ancient Mesopotamia.
We've seen Adidas come out with some pretty ballsy designs in the past, but the new Samba Primeknit – the world's first knitted football boot — is step towards the bizarre. "Every Adidas product is developed with the player in mind and in particular, the needs of the player" said Adidas Senior VP for Global Football Markus Baumann. "By producing the world's first knitted football boot we have provided a brand new solution to the search for higher levels of comfort and flexibility." And who better than to debut the boot than Liverpool striker Luis Suarez?
Although it's also set to be worn by the likes of Gareth Bale and Lionel Messi, the Uruguayan will have the first punt in them when the Reds visit Manchester United in the middle of March. While they're certainly an eye catching, original design, these limited edition boots – which will also be laced up by Suarez when he runs out at the World Cup this summer – retail for hefty £220; not a problem for football's super-rich, but a bit expensive for the run of the lot punter like you and me.
"Primeknit is a further demonstration of our commitment to driving relentless innovation in football and is designed to allow for a bespoke fit for each player, making performance more intuitive and responsive than ever before" continued Baumann. "Primeknit is a technology that is right at the heart of Adidas innovation and we're excited about introducing this development into football."