Reds Boss Brendan Rodgers to Run Half-Marathon for Charity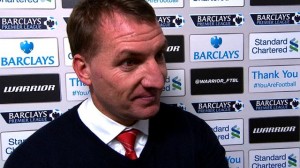 Liverpool travel to Wales for a meeting with Cardiff City on March 22nd, but that's not necessarily going to be the toughest test Reds boss Brendan Rodgers faces that weekend with the Northern Irishman, and his backroom staff, signed up to participate in the Born to Run Liverpool Half Marathon the following day in support of the Liverpool FC Foundation.
The Reds official charity, which benefits a wide variety of causes around the world, will be in store for a healthy boost as Rodgers hits up his colleagues – and rich players – as he and his team raise funds for the cause before hitting the challenging 13-mile course. Although the route will pass Sefton Park, this will be anything but a relaxing afternoon stroll.
"The team and I are looking forward to running and finishing the race together, whilst enjoying the atmosphere and raising funds for our Liverpool FC Foundation" Rodgers told the official website. "The foundation plays such an important role in our communities, creating sporting opportunities that have a big impact on people's lives."
Warrior Sports, the Reds kit provider, will provide custom branded running apparel for Rodgers and his team that shows their support for the Liverpool FC Foundation. If you want to offer words of encouragement, or make a donation, you can chip in at the clubs Just Giving page.