Flanagan Admits Reds Dreaming of Title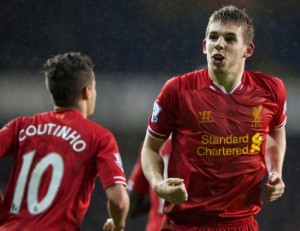 We can play down our chances as much as we want, but the fact of the matter is that with 10-matches left in the season, Liverpool are very much a part of the title race – and fullback Jon Flanagan has admitted that they're all dreaming of topping the table for the first time since 1990.
The Reds youngster has found himself in the thick of things with injuries to Glen Johnson and Jose Enrique affording the local lad with a rash of unexpected playing time. The man nicknamed the "Red Cafu" was on hand to help his side to a 3-0 win over Southampton on Saturday, and with the three points catapulting them into second place, talk of a tilt at the title is heating up again.
"Nobody really talks about [the title] much, but it's definitely something that's in my mind and it's probably in the other players' minds as well," Flanagan told talkSPORT. "But we're just taking every game as it comes, we'll keep pushing on and hopefully keep getting three points. If we're still in this position with five games to go, I think we're in with a big shout."
Liverpool, who has 18 league titles to their name, has yet to end the season on top in the Premier League era, seeing the likes of Arsenal, Chelsea and Manchester United enjoy the kind of success that they're accustomed to – a trend that's starting to turn under new manager Brendan Rodgers. The Reds host two of the current four table topping sides before the season lets out and those results could very well decide the outcome of the title race. "Our home form has been terrific this year, and with three big games at home still to come [against Chelsea, Manchester City and Tottenham] I think the advantage is on our side" continued Flanagan. "They'll be tough games but our confidence is high at the moment, we're scoring a lot of goals in every game and we're ready to take on anyone."