Suarez Can't Explain Norwich Volley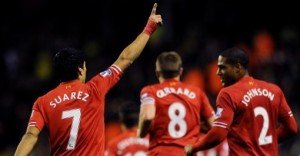 You'd do well to find someone that would dismiss Luis Suarez's miraculous volley against Norwich City as a mere fluke; the Uruguayan went on to score four goals as the Reds routed the Canaries at Anfield, but his stunning first will stand the test of time as a truly great goal.
"My third that day – a flick over a defender and hard shot into the corner – was beautiful, but I can't even explain the first goal" the Liverpool number seven recounted to FourFourTwo magazine. "The ball was bouncing and I shot, purely for the sake of shooting, and it went in the perfect spot. I didn't look at the 'keeper or the goal once."
Liverpool Vs Norwich 5 – 1 Suárez Super Hat-trick 2013 Premier League 4122013 from andrew on Vimeo.
Those sat on the Kop that evening saw a serious goal of the season candidate whistle in when Suarez smacked the ball from truly ludicrous distance to set his history making "Hat Trick of Hat Tricks" in motion. The Uruguayan is used to punishing the Canaries having scored three goals against them on two previous occasions, but this time was a bit special.
"Sometimes when a striker is in the middle of a run of good luck, you've got to make the most of it – more or less shoot from anywhere and see what happens" continued the Reds striker. We've been lucky enough to see Suarez find the net an impressive 24 times this season – a tally that leads not only the Premier League, but also the top European leagues as well. With ten matches left in the season, the 27-year old is on course to claim both Golden Boots and could very well add the Goal of the Season to his individual trophy haul with this audacious, genius effort.