Agger Defends 50/50 Wilshere Challenge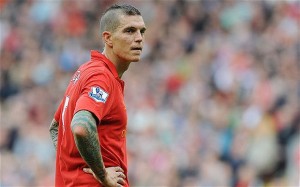 While the Arsenal faithful demand an eye for an eye, Denmark captain – and Liverpool defender – Daniel Agger has rightfully defended his challenge on Gunners midfielder Jack Wilshere during his side's 1-0 loss to England on Wednesday night.
Both players went in hard for the ball early on in what was a somewhat subdued first half, but the 22-year old came out worse for wear with scans revealing a hairline fracture to his foot which have ruled him out for the next six weeks – a massive blow to Arsenal's title chances. You'd be remiss not to say that the tackle was robust, but in the wake of supporters of the North London club calling it a deliberate, calculated attempt to hurt the midfielder, Agger has felt the need to speak out.
"It was 50-50. You have to go for those challenges," said the Liverpool vice-Captain in the wake of an online petition to have him banned for the tackle. "I was going for the ball and I think I got the ball, but the referee didn't." An online petition has been circulating calling on the FA to ban the Danish defender, alleging that he was playing a part in primary Liverpool owner John W. Henry's master plan to destabilize Arsenal.
Ignoring the tin foil hat brigade, England boss Roy Hodgson, who has never been one to talk much sense, surprised everyone by saying that it was an "honest challenge" and sympathizing with the Arsenal supporters – something he failed to do when he sent Daniel Sturridge back to Liverpool crocked all those months ago. What is quite interesting, and draws a parallel to the Sturridge situation, is that the tackle happened in the first half, but Wilshere was not substituted until almost midway through the second; more of Roy checking the resolve of his charges? Or is it just stupidity on the part of Wilshere to play on?
Sounds like the Gunners started the wrong petition…