Liverpool Boss Hails "Beneficial" Loans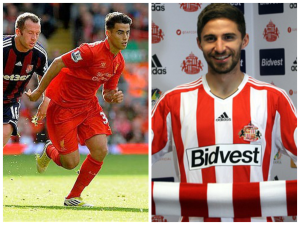 With a total of twelve players out on loan, it goes without saying that Liverpool boss Brendan Rodgers is a fan of the system. Although there's one or two players out that we're fairly certain won't be back in the famous Red shirt ever again, you have to wonder about the likes of Fabio Borini and Suso.
The Italian striker, currently plying his trade at Sunderland, has played an important part at the Stadium of Light this season. He's been the man for the big occasion — especially during the Black Cats run to the League Cup final — and the Northern Irishman has taken note of the 22-year olds prolific record on Weirside.
"Fabio has got games and scored some very important goals," the Anfield boss told the Liverpool ECHO. "He got the opportunity to play in a major final at Wembley. All that bodes well for the future." It's hard to see Borini displacing the likes of Luis Suarez and Daniel Sturridge, but with European football beckoning next season, he could add another dimension to a squad that will need to be expanded; same goes for Suso.
The Spaniard, currently on loan at La Liga side Almeria, has turned in some impressive performances for the Andalusian outfit and Rodgers is keen to see his progress first hand this summer. "The likes of young Suso has had a terrific loan in Spain playing regular first-team football" he continued. "He will come back and come into the squad in the summer and then we will assess where he's at."
Budding talent doesn't mean much if it's not nurtured with experience — something Rodgers knows quite well from his time working with the reserves at Chelsea. "The loans have certainly been beneficial," said the Kop boss. "There are different types of loans for different players. In particular for the young players it's very important for them to gain that experience."
The manager hasn't been afraid to throw the kids into the fire with the emergence of Raheem Sterling as a first team force and chances handed to Joao Carlos Teixeira and Brad Smith perfect examples of the serious focus Rodgers has put on developing our prospects. Borini and Suso have had a year away and have both racked up some serious minutes — we'll see if they cut the mustard when they get back to Melwood.