By the Numbers: Comparing Jordan Henderson Around the League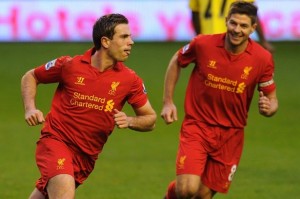 It goes without saying that it's been a breakout season for Jordan Henderson; the £20mil man looked like he was going to be a bit part player when Brendan Rodgers was installed as boss at the beginning of last season, but the former Sunderland man has stepped up his game and has so far appeared in every one of Liverpool's Premier League matches this season.
With the Reds enjoying a rare lay-off over the weekend after their match with Sunderland was postponed, I took started comparing the 23-year old to some of his contemporaries around the league. Using the stats freely available at Squawka.com, I ran Henderson's numbers against Chelsea playmaker Oscar, Arsenal pretty-boy Jack Wilshere, Everton upstart Ross Barkley, Manchester City stalwart Samir Nasri, Southampton ace Adam Lallana and Manchester United scapegoat Tom Cleverly. I'm hardly a seasoned statistician, but some of the results were rather surprising.
Football is the simple game made hard, but one of the best raw indicators of how players stack up is the amount of goals they've scored — primitive, but effective. Henderson has found the net 3 times in 28 matches this season for a goal every 9.33 matches — about par for the course when you compare his total tally of 5 in 38 matches last season.

The clear winner here though is Southampton attacking midfielder, and Henderson's England colleague, Adam Lallana with 7 goals in 29-matches so far this season. The 25-year old set up Daniel Sturridge to head home the winner as the Three Lion's beat Denmark in an international friendly last week which only increased the midfielders value.
With Liverpool captain Steven Gerrard taking up a deeper role, Henderson has been more involved in the final third of the pitch and we've seen an upswing in his chance creation. With 50 chances created this season, he's getting involved a bit more in the goal scoring process than his more vaunted contemporaries in both Oscar and Jack Wilshere. Only Lallana has created more chances than his England teammate, but he's played a match more.

Only Manchester City midfielder Samir Nasri beats Henderson out in the field with the Frenchman creating just shy of 2 chances per match — makes sense when you see that Liverpool and the Citizens are neck and neck in the scoring race.
With a more advanced role being handed to the 23-year old, we've seen not only an upswing in his chance creation, but also his assists. Henderson came in for some criticism in his first two years of the club for getting rid of the ball rather than taking chances himself. Though we still see that from time to time, the midfielder is picking his opportunities, and targets, far better.

With 6 assists in 28 matches this season, the Reds man already has 2 more than he did throughout the entire campaign last year. Even more surprisingly, his closest chaser is Adam Lallana rather than Samir Nasri or Oscar — two players known for setting up the players around them.
With Liverpool boss Brendan Rodgers placing a very large focus on possession, keeping the ball and completing your passes plays a massive role in succeeding in his team; for a more attacking player that's creating chances, Henderson does quite well in this respect with 86% of his passing finding their intended target.

The former Sunderland man edges out Oscar, Everton man Ross Barkley and Adam Lallana in the passing stakes while drawing level with Jack Wilshere. It comes with little surprise that Nasri takes the cake on this one considering his crisp, silky passing, but what does come as a surprise is that Manchester United pariah Tom Cleverly comes in second with an impressive 89% pass completion rate. Who would have thought?
Henderson has never been that strong on the back foot and his numbers certainly show that an improvement is needed. Again, since he's been playing in a more advanced role, he's had Steven Gerrard — and sometimes Joe Allen — behind him mopping up, but with the Reds holding a high line and pressing in the opponents half, the 23-year old could improve his numbers.

Although none of the midfielders I compared him to are particularly strong on the defensive, Everton youngster Ross Barkley put up some decent numbers, drawing with Nasri at 635 in take-ons and edging out Wilshere in headed duels — though he kind of stunk up the tackles column.
For a player that's supposedly "over-rated", Henderson stacked up pretty well against some very good players. It's not always easy for a youngster to live up to his potential — or his transfer fee — in the very little time the more finicky Premier League armchair managers or snake tongued pundits might expect them to.
With that being said, the 23-year old has shown some marked improvements this season and has become an integral part of Brendan Rodgers squad. Considering his young age, and the potential he continues to show to get even better, that gigantic transfer fee could start to look like quite the bargain in another year or two.
–Steven
Love articles like this? Have a passion for the numbers and the more technical side of the game? Well, we're looking for a writer that wants to focus on the stats. Submit an article here and you could be (unlucky enough to be) the newest member of the Paisley Gates team.