Reds Pass on Permanent Cissokho Switch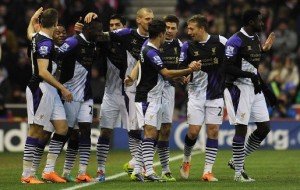 With Glen Johnson back in the starting eleven, on-loan fullback Aly Cissokho has dropped back to the bench and may have played his last match for Liverpool with reports out of Spain indicating that the Valencia man won't be making a permanent move to Anfield.
The 26-year old has struggled to adapt to the pace of the Premier League since trading the Mestalla for Merseyside in August and it looks like he'll be heading back to Valencia when his loan expires with Brendan Rodgers reportedly passing up the chance to take up a clause which would have made the fullback available for a mere €4mil. Although nothing has been officially announced quite yet, this looks to be par for the course.
Cissokho, who was injured in the early stages of the season, has failed to live up to expectations at Anfield despite making 13-appearances for the Reds. Injuries to Jose Enrique and Glen Johnson saw the French fullback get an extended run in the squad, but according to Spanish paper Plaza Deportiva, it hasn't been enough to impress Rodgers with the Northern Irishman expected to dip into the transfer market this summer.
Although he may not have struck the fancy of the Liverpool boss, Cissokho seems to be enchanted with the city and in a recent interview with French paper L'Equipe — in which he said he had no regrets in going out on loan to Liverpool — he talked about the passion he sees week in and week out. "On match days, the city lives for it, much more than anywhere else I've played" he said. "You feel that football is the heart of every home. The stadium is always full. The songs, the atmosphere is awesome. This is the Champions League every weekend."
-->

'); var s = document.createElement('script'); s.type = 'text/javascript'; s.src = '//cdn.chitika.net/getads.js'; try { document.getElementsByTagName('head')[0].appendChild(s); } catch(e) { document.write(s.outerHTML); } }());