By the Numbers: Liverpool vs Manchester United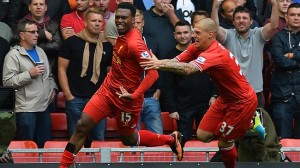 Every time I look at the league table, I do a double take – and it's not so much because of where Liverpool are, but more out of shock that Manchester United aren't up in the mix. The way we've been playing, our position is only the logical result of both our form and desire to win; which is exactly what can be said for United's as well.
This doesn't look like a team that won the Premier League title at a canter last season and that's because it's not, in the philosophical sense anyways, the same team. Under former manager Sir Alex Ferguson, they had more than mere belief. Nothing short of an arrogant entitlement to the three points on offer was drummed into them and they responded, time and again, in kind. Unfortunately for them, and buoy for the rest of us, new boss David Moyes has failed to inspire such feats – that, and no one is scared of him.
The Premier League has been a tight affair this season, but we've seen most of the pressure on the top half come from Liverpool rather than Manchester United – a serious role reversal considering recent history. While the Reds have been occupying the upper echelons of the league, United have failed to really get going. There are few places this is more evident, besides accumulated points of course, than in goal difference; with 10 matches left in the season, Brendan Rodgers has seen his side score just shy of 30 more goals than their most fierce rivals, though Moyes men boast a better defensive record, having allowed 4 less than goals — not that it's helped them in the point's race, but that's a whole other story.
Liverpool 'keeper Simon Mignolet has come in for some criticism, but it's hard not to pin at least a portion of it on the players in front of him. A lot of times, a player is only as good as those around him and the Reds backline has been shaky all season long; now, that's not to say that United's hasn't been. One of the main talking points regarding the Belgian has been his distribution and his ability to take charge of his area – the two areas that he pips counterpart David de Gea in.
The aforementioned shakiness in the collective backlines of both Manchester United and Liverpool grants only a little bit of leeway – and what it does grant, it hands to both Martin Skrtel and outgoing Red Devils captain Nemanja Vidic. The Slovakian has been a rock for Brendan Rodgers this season while those around him continue to rotate. Vidic, while hampered by injury for portions of this campaign, has been the same for new manager David Moyes.
When you glance at the first column, you'd think it'd be unfair to compare Philippe Coutinho to Juan Mata — until you look down the list a little further. The Spaniard stakes up quite well in comparison to the Brazilian and has provided only one less assist this season despite making seventeen appearances less. After United shelled out all that money to secure his services, there's a lot of pressure on the former Valencia man to produce – though questions still remain whether David Moyes can get him back to his best.
No one stacks up to Luis Suarez – that's the long and the short of it. Rooney, van Persie, Welbeck, Hernandez; doesn't matter. The man from Salto has this on lockdown.
–Steven