NEWS FLASH: Suarez Hates Losing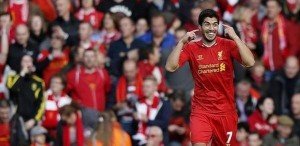 You're not going to be surprised at all by what's to come: Liverpool striker and former spoil-sport Luis Suarez hates to lose. He hates it so much, he has a hard time letting his daughter win when they play games around the house – even though she hates losing as much as he does.
"I can never lose. I don't like that and sometimes I can see and my wife can see that Delfina is the same" said the Uruguayan striker. "She doesn't like losing and when we play in the house and she loses she cries and Sofia says she's like me on the pitch!" We've seen the Reds number seven throw a temper tantrum or two since he traded the Netherlands for Merseyside, and each of them have come when his team are either losing, or has lost.
The infamous biting incident with Branislav Ivanovic came when Liverpool were a goal behind to Chelsea and, immediately following defeat to Fulham, his less than appropriate gesture to the Cottagers support was born out of frustration – something that likely bubbled up from when he was young. "When I was a child I never liked to lose. From seven years-old I started to do competitions and things like that and I never liked to lose" the 27-year old continued. "Sometimes 100% it's from the street, but sometimes it's another person because you try your best, you perform and you change. But it depends on the moment."
We've seen a calmer, more stable Suarez this season and the benefits of his new approach are apparent on the pitch. Despite missing Liverpool's first five Premier League games as the tail end of the ten match ban for biting Ivanovic ran out, the Uruguayan has scored 24-times this season and assisted ten additional goals. Despite the well deserved individual plaudits, the man from Salto's main concern remains the team. "If Liverpool win it's more important" he explained. "If I score and we win it's unbelievable but if we win and I don't score it's also unbelievable because I try my best for the team and not just for myself."