Brendan Rodgers on Trouncing Manchester United: Post Match Interview and Getting Aggro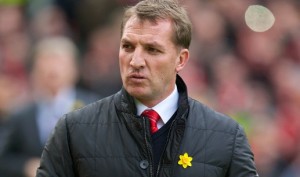 It's going to take a few days to stop smiling; you don't win by three goals at Old Trafford any old day of the week, so when it happens, the sensation is going to linger. I won't be tired of smiling anytime soon — even with another work week just about to start.
A pair of penalties from Steven Gerrard and a close range Suarez finish put a lackluster Manchester United to the sword on their own patch of grass, but Reds boss Brendan Rodgers thought we could have done better. "I thought we could have had more goals. We were really aggressive in our game going forward, just that final pass or final touch might have been a bit better to finish them off even more" mused the Northern Irishman during his post-match press conference. "The aggression in our game was there to see. We attacked with great intent. It was a very good attacking performance." To be fair, it wasn't just a good attacking performance — it was a damned good all around performance.




Video by BeanymanSports
We've got two clean sheets on the bounce and two back-to-back 3-0 victories. Couple that with them coming at two of the toughest grounds in the Premiership and you've got even more icing for a cake that's already a touch too sweet. "We continue to play well and work well. It's obviously a big win against a huge rival; two of the biggest British clubs and renowned worldwide" continued Rodgers. "To dominate the game like that was very pleasing."
Manchester United is a different kind of beast this season; toothless in attack despite a wealth of world class options at their disposal, tactically poor even with a seasoned vet at the helm and comically disorganized at the back. There were enough sticks laying around to beat them with, but Liverpool chose the time tested route through the middle of the park with the midfield diamond working wonders.
"Both boys on the side – Jordan Henderson and Joe Allen – were exceptional. They very rarely get mentioned, especially Joe Allen" said Rodgers will an obvious sense of pride. "But the tactical intelligence of both to play on the side of a diamond, with Steven just in behind controlling and dictating the tempo, was very good."
Early questions about the Captain playing in a withdrawn playmaker role have been answered with a resounding laugh to those — including yours truly — who had doubts that he was being used effectively there. "He has taken to that role very well and the responsibility. You saw some of his range of passing today, he's got legs on and about him and can still cover the ground well" he continued. "I don't think there are many who can do what he does – from one of the world's leading attacking players to then fall into a position in the other half of the field."
Three points today puts the Reds within touching distance of league leaders Chelsea after the London outfit slipped up against Aston Villa on Sunday. With nine matches remaining, we sit a mere four points off Jose Mourinho's side with the Blues still having to meet Arsenal, who are level on points with Liverpool in second, before navigating the absolute minefield on Merseyside. Talk of the title is understandably heating up, but Rodgers — in typical Rodgers fashion — is only talking about where his next victory is coming from.
"I'm just focusing on our own team. We've got nine games left – we might win all nine and still lose it. We will just focus on our next game, that's Cardiff. I'm only focusing on our next game and looking to get three points" reiterated the Reds boss. "We have a mentality that has been developing over the course of the 18 months I've been here. We expect to win home and away. The belief is in the players now and you see that in their game."
–Steven