Liverpool (3) Manchester United (0): Reds Trounce United to Stake Title Claim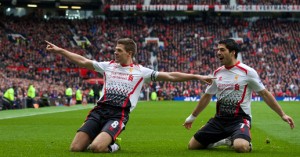 Victories at Old Trafford have been hard to come by for Liverpool through the years, but from the get go, the result hardly looked in doubt.. With Manchester United looking a mere husk of the side that galloped to the title last season, the anxiety in their game was palpable and Liverpool, confident in possession and assured going forward, took advantage time and again.
From the first whistle, you could feel it in the air; penalties on either side of the half saw Steven Gerrard hand Liverpool a massive lead before Luis Suarez poked home from close range to seal the points. If the Reds had dreams of the league title returning to Anfield going into this fixture, they come out of it with something entirely tangible – a real, honest to goodness shot at bringing it home.
The turnaround is absolutely mind blowing. At this very stage last season, 29-points separated the two sides, with United going on to claim yet another Premier League crown. There'll be no such celebration at Old Trafford come May, and if they qualify for the Champions League, it will be through nothing less than a real miracle.
In contrast, the most successful team in England over the last 20-years will have to watch on as Liverpool – the team they "knocked off their perch" all those years ago – make a march on the summit. Today, they got a first-hand look at a side revitalized under Brendan Rodgers, and as the Reds controlled everything in the opening exchanges, even their exuberant support couldn't lift their team.
Chances for Daniel Sturridge and Robin van Persie highlighted the first half, but the breakthrough would be as straight forward as they come with United fullback Raphael clearly handling the ball in the area as Suarez attempted to skip past him. Gerrard, who loves scoring at Old Trafford, dispatched the resulting spot-kick with aplomb as the "Theatre of Dreams" fell quiet — save for the travelling Kop, of course.
Wayne Rooney's stinging effort was batted away by Simon Mignolet as the former Everton man tried to snatch an equalizer before the break, but the hosts found themselves with an even larger gap to fill when the Liverpool skipper doubled his tally. If United were to get back into the match, they needed a response in the early minutes of the second half — instead, Phil Jones clattered Joe Allen as the Welshman surged across the box, leaving referee Mark Clattenburg no choice but to point to the spot.
With the Captain providing the crucial second past a stranded David de Gea, the hosts were really up against it; to make matters worse, nothing at was going right for David Moyes side as outgoing captain Nemanja Vidic saw his header fly over the bar and Marouane Fellaini, yet to make an impression since his big money move to Manchester, smashed one well off-target. It would all go from bad to worse when Sturridge was felled — or was he? it looked a lot like a dive to me — by Vidic while en route to the net. Par on the course was secured with the Serbian, rightfully protesting wildly, was handed his walking papers. Though the skipper would fail to claim his hat-trick as his third spot-kick of the day cannoned off the post, Luis Suarez would go on to wrap up the points with an assured finish from close range.
Liverpool were the vastly superior side; that's really all there is to say about that. For all the pomp and circumstance surrounding this fixture, for large swathes anyways, it was a vastly one sided affair — something that is nothing short of delightful after all those years of United dominance. Liverpool have now downed Tottenham Hotspur, Everton, Arsenal and Manchester United, scoring 17-goals and conceding only one in the process.
That's title winning form, from a real title challenger. There's no dodging it now; we're here and we're well and truly in the thick of it.
–Steven
As far as away wins go, that was pretty decent, no? Let us know what you thought in the comments — surely you've got something you want to get off your chest.