Liverpool to Mark 25th Hillsborough Anniversary with Supporter Scarf Display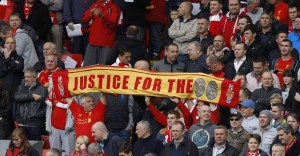 With 25th anniversary of the Hillsborough Stadium Disaster quickly approaching, Liverpool has called on supporters around the world to participate in the memorial services by donating a scarf for a massive display of unity from sports fans across the globe.
The scarves, which can represent any sports team from anywhere, will be laid on the pitch in the shape of a giant number 96, representing the Liverpool supporters whose lives were lost on that tragic day in Sheffield in 1989. The club is also asking that a personal note be included along with the scarf for the Hillsborough families as a further show of support on this milestone anniversary.
Club director, and legendary player and manager, Kenny Dalglish has also written to all English, Scottish, Welsh and Northern Irish clubs asking they show their support by sending a club scarf for the display. Following the service, the clubs official charity will donate the scarves to local causes, including homeless charities.
With the understanding that your scarf will not be returned to you, the club requests that anyone interested in participating send their donation to: Hillsborough Scarves, 20 Chapel Street, Liverpool, L3 9AG, having them arrive no later than Tuesday, April 8th. Checking international postage times, rates and import logistics to ensure that your scarf will be able to be included in the display.