Gerrard Calls on Liverpool Owners to Hand Rodgers Long Term Deal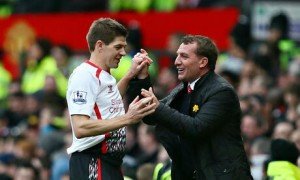 Following his brace at Old Trafford as Liverpool ran out 3-0 winners over arch-rivals Manchester United, Reds skipper Steven Gerrard has called on the Anfield hierarchy to hand boss Brendan Rodgers a new long term contract.
"From week to week he is helping us improve and get better and he has been an absolute breath of fresh air to this football club. I am sure the rest of the players would echo what I am saying" enthused the Captain. "I am absolutely delighted he is here and I just hope that there is a lot of movement in Boston now because they have got to get him signed up as soon as possible." With the mountains he's clibmed on Merseyside, there's little doubt that a new deal is on the way.
With nine matches left in the campaign, Liverpool sit second in the table, level on points with Arsenal and only four off of league leaders Chelsea. While the short term goal for Rodgers and company has always been returning to the Champions League, the long term goal of capturing their first title of the Premier League era looks to be just as attainable — something no one thought possible after finishing seventh last year.
With his contract running out, Gerrard believes the club needs to act with the same urgency that it does with player contracts. "When players are in this situation with a year to go and you want to keep hold of them so desperately, then the club reacts really quickly and gets it sorted" he continued. "For me, I think he deserves a very long contract here and I think he is perfect for this club."
After Sunday, no one is going to argue with that — time to splash some cash, Mr. Henry.