Goal Mad Skrtel Loves to Celebrate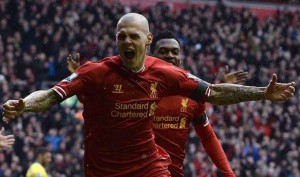 There's nothing like a good celebration; Liverpool defender Martin Skrtel won't argue with that. With the Reds scoring goals for fun, the big Slovakian has had a lot of time to practice looking not so scary – something he's enjoyed immensely.
"When we scored in the game against Everton, and against United, you go mad after those goals, so it was something I'd done before and now again" said the 29-year old when asked about being perched atop the shoulders of Luis Suarez during the unabashed bit of revelry following the fourth goal of the Merseyside derby. "I'm glad the fans liked it!" When Liverpool put that many goals past Everton, a polite clap to the fans is all we need since we do enough celebrating for everyone, but seeing the players show a bit of passion just makes it that much better.
A happy, unified changing room has been one of the key factors in the Anfield outfits assault on the top-four this year, and when you see all of the players celebrating goals together, you can see the support coming in from all angles. "It says everything. Everyone can see when we celebrate that everyone – every single player – is together. We're happy scoring goals and winning games" continued the defender. "Everyone can see the spirit in the team and the changing room is perfect now."
Skrtel was a part of the team that thrashed Manchester United 4-1 at Old Trafford in 2009, and after winning 3-0 there on Sunday, the Slovakian had a lot to smile about – especially since he rates their most recent triumph a bit higher. "Comparing the victory then with this one, I feel this one was a little bit better because we dominated more of the game and could have scored even more goals, so I'd probably regard this a little bit higher" he said.