By the Numbers: Liverpool vs. Cardiff City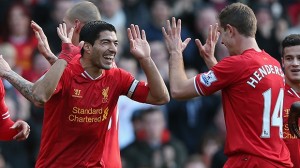 There hasn't been much in the way of a turn around since Cardiff City owner Vincent Tan replaced fan favorite Malky Makay with Manchester United legend Ole Gunnar Solskjaer – the Bluebirds are still in the same seriously dire straits they were in when Liverpool ran out 3-1 winners at Anfield back in December.
Second from bottom, but only three points off from safety, the Welsh side are looking like prime candidates to be involved in the relegation scrap. It's been a bit of an odd Premier League season for everyone involved, and with less than ten matches remaining for almost everyone involved, any of the teams currently in the top four could win the title, and anyone conceivably up to tenth place, could go down.
The difference between a title contender and a Premier League hanger-on really is massive; 37-points separate second placed Liverpool from 19th-placed Cardiff City with the Reds having scored 53 more goals than their Welsh counterparts. Goals have been a bit hard to come by since the Bluebirds achieved promotion to the Premier League with their 39% shot accuracy and 7.96 chances created per match not helping matters any.

Although Cardiff aren't know as being a possession based outfit, their 47% average is a respectable number – though I'm sure they're drop a point or two off there after Saturday's match with Liverpool commonly enjoying 53% of the ball, buoyed by their 84% pass accuracy. If their hosts want to have a hope of stopping them, they're going to have to hold the ball more and disrupt the Reds passing game – something far easier said than done.
To be fair, Cardiff City 'keeper David Marshall has made a decent go of this season. Even though the Reds are in a vastly superior position, they've been shipping silly goals all season – the one they conceded to the Bluebirds in the reverse fixture is a prime example. Although Simon Mignolet has come in for a bit of stick, the Belgian has done quite well since his summer move from Sunderland with nine cleans sheets to his name; which, of course, makes Marshall's tally of six damn impressive.
With Liverpool vice-Captain Daniel Agger back in the side, the Reds have kept two clean sheets on the road on the trot. The big Dane, who has missed substantial swathes of the season either through injury or being second choice to returning French defender Mamadou Sakho, looks to be reasserting his dominance in the side – though what will come in the summer is a completely different question altogether. One option that's been mooted is Cardiff City's Steven Caulker, and with the numbers he's putting up and the performances he's putting in, it makes sense.

In the context of a team battling against relegation, and with a midfield that hardly cuts the mustard, the 22-year old has done admirably with 59% of his duels won, only 2% off of Agger, and 55% of his tackles successful, 3% better than the Dane. If the Bluebirds are going to stay up, you'll probably see Caulker play a big part in that.
It's not fair comparing anyone to Steven Gerrard; despite some early season shakes, and a change of role, the Captain has once again taken the team by the scruff of the neck – although, this time around anyways, he doesn't have to shoulder the burden on his own. A pair of penalties at Old Trafford on Sunday saw the 33-year old hit double digits for goals this season and his nine assists have been a major boon to a side that's scored a staggering 76-goals already.

Jordon Mutch, try as he might, just isn't stacking up, though he has had Gerrardesque moments this season, inspiring those around him to reach a little further. Four goals from midfield for a struggling side certainly isn't anything to scoff at and his 26 chances created is a pretty decent haul. We're sure to see more from 22-year old as his side battle to stay up.
To echo my previous sentiments, it's not fair to compare Frazier Campbell to either of our strikers. While Luis Suarez may lead the race for the Golden Boot, teammate and strike partner Daniel Sturridge is hot on his heels with 18-goals in a mere 21-appearances for the Reds this season. Much like his Uruguayan counterpart, he's not only good at scoring, but creating as well with six assists to his name already – many of them for Suarez.

Campbell, on the other hand, hasn't had the best time in front of net during the Bluebirds debut Premier League campaign. With just five goals to his name in 29-appearances, the 26-year old has struggled to find the net; which of course, is in no small part down to the team that's around him, but with only one assist on his card, he's not exactly pitching-in in other ways either.
–Steven