The Burden of Being Beasts: Cardiff City Preview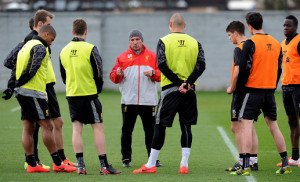 I suppose that therein lies the problem; it's fine to spend a good portion of the season brushing off your chances of reaching your goals, but when it comes to crunch time and you're obviously on course to not only obtain it, but exceed it, unless you're Jose Mourinho, you can't get away with playing down expectations any longer – the fans really are expecting you to hit those targets.
While the "Special One" would likely deny to your face that Chelsea are through to the next round of the Champions League and top of the Premiership, Reds boss Brendan Rodgers is going to have to fess up to the fact that Liverpool are now serious title contenders. It may be the job of the manager to absorb, or deflect, pressure away from his players, but there's no longer a chance of hiding it. We can all add – and numbers don't lie.
The famous "but can he do it on a rainy Wednesday in Stoke?" certainly comes into play this weekend. It's certainly not midweek, and it may not be raining, but getting up for a match against Manchester United is one thing, but motivating yourself for a meeting with second from bottom Cardiff City is a another story altogether. Liverpool is certainly the form team at the moment, but we all know what happens when you start to get over confident; that's when they get you, isn't it?
To be fair, it wouldn't be the first time that Liverpool got "got" by Ole Gunnar Solskjaer, would it? The Manchester United legend, who likely took offence to the 3-0 thrashing the Reds handed out to his old club on Sunday, will be scrounging around for dropped points tomorrow after narrowly missing out on one as a late Seamus Coleman winner saw that other team from Merseyside snatch all three last weekend. If that over thought and under edited sentence made the Norwegian sound like some kind of point grubbing hobo, then that's fine by me; when you're in the relegation zone, and meeting a team with title aspirations, if you can pick up a point, then good on you – hobo aspersions in the match preview or not.
It's likely that Brendan Rodgers will name the tried and tested lot for the trip to Wales, but Solskjaer could play tinker toys a bit with his side. One of the only questions to come out of the Reds camp is whether or not Rodgers will return Philippe Coutinho to the starting eleven or keep Joe Allen – a Swansea City old boy — in the starting line-up. Daniel Agger possibly making way for Mamadou Sakho is also a bit of a thought, but the Norwegian has to find some way to toss the visitors for a loop. We won't see it up top in either Frazier Campbell or Craig Bellamy , two players who are pretty predictable, but former Reds trainee Craig Noone and Anfield goal scorer Jordon Mutch both have the ability to make things happen and could be dangerous both supplying the strikers and taking chances themselves.
It goes without saying that if the Bluebirds hope to get anything besides a mauling out of this, they're going to have to keep their visitors quiet. As it stands, Liverpool have scored the most goals in the Premier League this season, and though they've played two more matches than second placed Manchester City, that's quite the accomplishment considering their lowly position last season. Stopping the like of Luis Suarez and Daniel Sturridge is easier said than done, but when you throw both Raheem Sterling and Steven Gerrard into the mix, it becomes a serious task. We'll certainly get a good look at both 'keeper David Marshall, and reported Reds target Steven Caulker, tomorrow – they're going to be working their butts off.
And, so are Liverpool. If they want to keep pace in the title race, nothing but three points are going to suffice. Though bigger, more prestigious matches loom on the horizon, the true calling card of a championship winning side is to win even when they're not playing well – or playing against top class opposition. While truly expecting to get three points each and every time is a great mentality to foster, the burden of actually producing a performance worthy of the win falls on you each and every time. Can we do it on a possibly overcast Saturday in Wales?
Yes — you know what? — I think we can.
–Steven
I'd love to tell you to pop in for the match reaction and all that, but I'm on holiday until after the Tottenham match so updates — if any — are going to be few and far between.