Repeat After Me: West Ham United Preview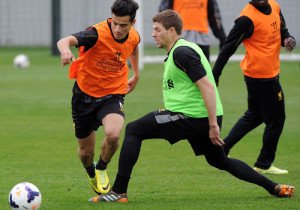 It's all a bit surreal; after spending the last week and a half on vacation in the Caribbean, I've spent the days leading up to this weekends meeting with West Ham United to watch our last three matches and let our situation soak in. Eight wins on the hop and top of the table? We could very well do this thing.
There's still a lot of football to be played, and with the likes of Manchester City and Chelsea on the horizon, there's still some major hurdles to overcome, but the belief swirling around Brendan Rodgers side is infectious and even the most conservative factions of the Reds support is beginning to let more than just smiles slip out — including yours truly.
Regardless of our form, title talk is for the midweek; pat yourself on the back too many times and you're going to lose focus. This weekend's trip to the Boleyn Ground is in our immediate future, not the Premier League title in May, and picking up three points in the Capital is the only thing that matters. We can only play one match at a time, and with six matches remaining, we have to win all of them if we want to be assured our first title of the Premier League era.
If we're going to stay top of the pack, we've got to keep the momentum going. We're the only top flight team to remain unbeaten in 2014 — a fact that is reflected in our league position, but this has been anything but a run of the mill campaign and pitfalls are scattered everywhere. Although the Hammers endured a tough start to the season, they've since righted the ship and sit in eleventh place in the table. They're not safe quite yet, but picking up even a point against the visitors on Sunday will give them a massive boost.
West Ham boss Sam Allardyce has been the target of some less than encouraging chants from the stands, but when you look at the numbers, he hasn't done all that bad. With the 2-1 victory against relegation fodder Sunderland on Monday, the Hammers have won four of the last five games on home turf — something that will give the Claret and Blue faithful hope. With Liverpool alumni Stewart Downing and Andy Carroll expected to start, a more immediate trap comes into focus with both players hoping to both impress England boss Roy Hodgson ahead of this summers World Cup in Brazil and claw back some measure of pride after being jettisoned by Reds boss Rodgers.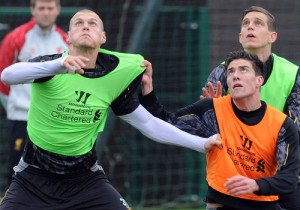 Irons captain Kevin Nolan, who picked up a back injury in the win over the Wearsiders at the beginning of the week, should be fit to line up against his hometown club come Sunday, but George McCartney, who also took a knock in the win, is expected to be ruled out. Considering the visitors prolific form, this could be a rather large problem for the hosts.
The four the Reds scored in the reverse fixture at Anfield will weigh heavy on their minds, but the fact that the Merseysiders have scored in each of their last ten visits to the Boleyn Ground will be the pressing concern — well, that and their seriously deadly attack. While the Hammers will likely look to get the ball in early to Carroll and clean up the scraps that he knocks down, Liverpool's far more elegant approach has netted them a staggering 88-goals this season — with more surely on the way.
Although striker partners Luis Suarez and Daniel Sturridge have combined for a total of 49 goals this season, this Hammers may want to keep an eye out for fullback Glen Johnson. The defender, who forced an own goal from Tottenham Hotspurs captain Younès Kaboul last weekend, has scored in three of last five league matches against his former side, and with talks stalled over a new deal, the 29-year old could help his cause along the way by notching the bed-post one more time.
It doesn't matter who does it though, as long as it gets done. If we win our next six matches, we win the league — it's as simply complicated as that. It's hard not to fancy your chances with the form we're in, but I'll keep tradition and refrain from making any predictions. In the last little while, we've seen Chelsea lose to Crystal Palace and Manchester City beaten by Wigan in the FA Cup — anything can and will happen if we lose our focus.
Repeat after me: one match at a time, six times in a row.
–Steven