Kenny Dalglish is a Brendan Rodgers Convert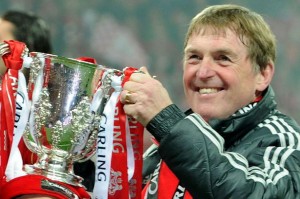 With Liverpool emerging the surprise package of the Premier League title race, former boss and living legend Kenny Dalglish is 100% behind what boss Brendan Rodgers is accomplishing at Anfield.
"Brendan is the one who leads the club and the players. The players are the disciples. They have followed on and they have believed in what he has told them. They believe in the team ethic," said the man the Kop still calls the King. "When you do get success it is important to maintain that and Liverpool have always been very humble winners. The way they have conducted themselves has been fantastic."
Although both the boss and the players have spent the better part of the season talking down their chances of claiming the title, Dalglish believes that keeping their expectations in check has been a major boon to their cause. "The humility of the players has a lot to do with it. That's come back to the club in the last few years" Dalglish continued. "They have not been running about lighting fires, saying 'we're going to do this'." It's been the opposite until up until recently, with ten wins on the hop bolstering their chances of lifting the Premier League trophy come May.
"They get to the top of the league and people start to doubt it" he mused. "Why? Rather than ask for a reason why they will do it, you give me a reason why they won't." Liverpool visit Norwich City this weekend and will look to stay ahead of Chelsea — who they meet a week from Sunday at Anfield — in the title race. If the King thinks that the Reds can do it, then who can argue? There are only a handful of the people who know as much about winning as him…