Four More Cup Finals: Norwich City Preview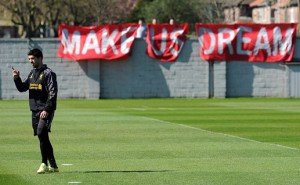 Liverpool skipper Steven Gerrard has been around the block enough times to know that Sunday's meeting with Norwich City is all that matters. Some people might point to next weekend's potential title decider with Chelsea, but the Captain knows that nothing can be done about that now — Carrow Road is the destination and three points is what's on offer.
The Reds may have enjoyed immense pleasure at Norwich in the past, but no one is about to take anything for granted. With a mere four matches left in this years Premier League campaign, Gerrard is a close as he's ever been to claiming the one trophy that's eluded him during a career that's as storied as they come. Four more matches; four more cup finals.
While Brendan Rodgers Liverpool go off in search of glory, Norwich City boss Neil Adams would be happy to just stay in, put his feet up and snag a point. The Canaries have a horror run-in to the end of the season that could very well see them relegated. Last weekend's 1-0 loss to fellow strugglers, and closest chasers, Fulham saw the Cottagers draw within two points of 17th placed City.
After making six changes last time out, Adams will have a major judgement call to make — does he stay the course with his team and try to differentiate himself from the sacked Chris Hughton, or does he dial it back a thousand? One starting point for the manager would be to restore captain Sebastien Bassong to the starting eleven after he sat out last weekends loss. He's going to need players that are willing to put in a serious shift if they're going to come up with the four points he wants to secure before the seasons end — and if he wants to take one of those points off of Liverpool, the skipper should be one player that's stepping up in a big way.
Although nothing at all is assured, it's pretty safe to say that the Reds will be travelling to Carrow Road the out and out favorites. The Canaries haven't scored in their last three outings, losing all three matches, while Brendan Rodgers has guided his side to ten straight victories, including last weekends win over Manchester City. Even if you put all that off to one side for now, when you consider that star striker Luis Suarez has not only found the net eleven times in his last four meetings with Norwich City, but he's actually outscored every player on the team combined, you wouldn't be at all at fault for assuming that the visitors are going to win this one.
As thin as the probability is that Liverpool are about to befall some sort of grand cosmic joke in which the Canaries upset their push for the title, there isn't a single Reds supporter out there that's about to take this run for granted. We spent a good portion of the season playing down our title chances for fear that our dreams would be dashed yet again — 24 years year of pain could very well end four matches from now.
Gerrard isn't banking on victory and neither should the rest of us. Chelsea may be on your mind, but you can rest assured that the team will be focused directly on Norwich City — and if history holds firm, poor John Ruddy.
-Steven