Rodgers Looks for More Control in Upcoming Contract Talks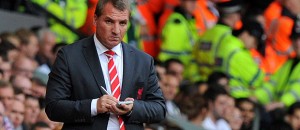 Although talks have yet to officially open between Fenway Sports Group and Liverpool manager Brendan Rodgers over a new deal, the wheeling and dealing has already begun with the Anfield boss firing an opening salvo in the press, where stakes a claim for more control over the clubs transfer business.
"I came to Liverpool because I hoped it would be a destination rather than just a stopping-off point" said the Northern Irishman, who went on to take a pretty decent swing at the transfer by committee approach at Anfield. "I felt the club had everything you would want as a football manager. It's one of the leading clubs in the world and I want to be allowed to build and develop the club without interference."
The 41-year old impressed during his time at Swansea City with limited resources at his disposal and, for the most part anyways, has done the same on Merseyside with the ownership group wary of splashing out too much cash too soon. Even though the Reds are enroute to not only qualifying for the Champions League, but potentially winning the Premier League title, it's highly unlikely that the tight purse strings are going to change anytime soon, despite a substantial cash injection.
Still, if FSG — who Rodgers claims he has a fantastic relationship with — isn't going to give him the unlimited funds afforded to the likes of Manchester City and Chelsea, he at least wants to have a substantial say who the cash is spent on. "I have a great relationship with the owners and, hopefully, we can continue to develop the team" he said. "We've still got a long way to go, but I'm looking five years ahead."
The jury is still out on a number of the Northern Irishman's purchases, but if he can bring the Reds their first title of the Premier League era, he at the very least deserves a bigger say in what goes on in the transfer market.