Mamadou Sakho Bobs and Weaves His Way to Fitness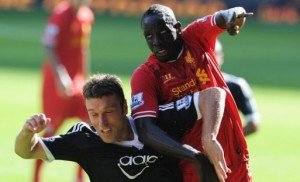 Athlete's have been known to do some cross-training to gain an extra edge in the fitness stakes, and to be honest, it comes as no surprise that the man Liverpool boss Brendan Rodgers nicknamed "killer" enjoys a bit of boxing as part of his health regimen.
Mamadou Sakho, who has found his way back into starting eleven for the past three matches following a long injury lay off, is a scary looking dude to begin with — now, could you imagine him in the ring? "I'm someone who likes to do physical work outside of my day-to-day training," the defender told the official website. "I like boxing as a sport and, yes, I like to do boxing-based training as a way of varying my cardiovascular exercise a little – but I don't actually fight I have to tell you!"
It's come as an unexpected bonus that following his move from mega-rich Paris St. Germain this summer that his new team have been so heavily involved in the title race — and with Champions League football secured for next year, he's going to have to keep himself in tip-top shape to make sure he stays in contention. "I know my job is a footballer and I want to be fit for that. This just allows me to exercise in a slightly different way" explained the 24-year old. "You could say that I like to let off steam on the punch bag."
Sakho has been a strong physical presence in the Reds backline this season, and despite a handful of injury problems, has been a consistent performer for Rodgers. "I really appreciate boxing as a sport and I like to train once or twice a week with my coach" he continued. "It's an added extra positive for me." And if it helps keep him on the field, it's an added positive for the rest of us as well — well, except maybe whoever he's hitting.