Liverpool Officially Release Updated Anfield Plans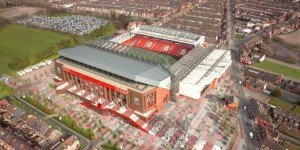 The plans may have leaked earlier on this week, but today Liverpool Football Club officially released the designs for a modernized, expanded and updated Anfield.
"We started this journey just over 18 months ago and a lot of work has already been done" said Managing Director Ian Ayre. "There is still an incredible amount to do, but good progress has been made so far and we are proud to be able to unveil our plans." In order to better compete with our rivals financially, the Reds have worked out a number of sponsorship projects, but the dream has always been to either move to a new stadium, or to expand Anfield to meet the growing demand for tickets and increase match day revenue. Now, we're one step closer to doing just that.
"As part of our proposed stadium redevelopment project, we have unveiled the detail of our ambitious plans for an expanded Main Stand and Anfield Road stand and are embarking on a consultation process which will shape and inform our planning application" continued Ayre. The new Main Stand, which will also be the new home of the Hillsborough Memorial, will be expanded to include an additional 8,500 seats, while the Anfield Road end could see its capacity increase by 4,800 seats.
The Reds are expected to submit the appropriate planning applications this summer, but this week they're asking local residents, fans and local businesses to give their views on the proposal to better understand their needs and incorporate them into the planning process.
Along the the updates to the stadium, the entire area of Anfield will be refreshed — something that it's been in need of for quite some time. "This is another important step in our ambitions to transform the Anfield area, bringing new jobs, investment and housing" said Liverpool Mayor Joe Anderson. "We are all committed to delivering a brighter future for Anfield and the club's exhibition is a clear signal that real progress is being made with all our plans."