Liverpool Progress Pleases FSG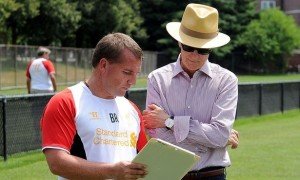 After racking up their eleventh win on the trot last weekend against Norwich City, it's safe to say that Liverpool are moving in the right direction — especially if you take the word of Reds boss Brendan Rodgers.
Primary Liverpool owner John W. Henry and Chairman Tom Werner were both in town to see the Anfield outfit dispatch mega-rich Manchester City two weeks ago, and according to the Northern Irishman, they were happy with not only the display, but the improved results this season. "I think they saw the development of the club and of the team and they were very complimentary," he told the Liverpool Echo. "It's important for them to see that progress across the football club."
The Reds are coming in ahead of schedule; though the goal this season was to stake a claim for a Champions League place, with three matches left in the season, they're on course to claim their first title of the Premier League era.
"They are absolutely delighted with what they've seen over the past 20 months and we talked about how we can keep the club moving forward because that's vitally important" the Northern Irishman continued. "It's been an ongoing process since I arrived here. We don't want it to be just for this season, we want to sustain it over a longer period." With Champions League football already secured, Rodgers is expected to be a handed a new contract in the summer and with it a transfer kitty befitting of a manager who's about to storm the continent.
Despite the much needed cash injection, there's no indication that they're about to start spending it recklessly. Instead, the sustainable model remains very much in play. "That's something that was pretty clear for us all in the discussions we had when I came in" explained the Reds boss. "We wanted to establish something that would be in place for a long time."