Brendan Rodgers on Chelsea Setback: Post Match Interview and Positively Positve Mentalities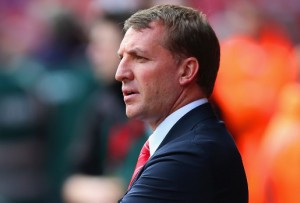 Liverpool's title hopes took a major hit yesterday with the 2-0 loss to Chelsea leaving their destiny out very much out of their hands. Seven points separated the Reds from claiming their first title of the Premier League era, but with only two matches left to play, the best they'll be able to manage is six; one agonizing point away from the magic number.
With an eye to the midweek meeting with Atletico Madrid in the semi-finals of the Champions League, Blues boss Jose Mourinho came to Anfield with a plan to stifle the hosts attacking prowess — something that worked exactly to plan. "Congratulations to Chelsea, they won the game. They probably came for a draw and we just couldn't quite make the breakthrough" the ever humble Rodgers said in his post-match interview. "But we showed everything today. We tried to get on the ball and we were the team that wanted to win the game."
Video courtesy of showmetheFOOTBALL
As a compact, well drilled unit, the London side were set up more to defend than anything else. Although they showed little attacking intent throughout, as luck and a bit of time wasting would have it, they got their reward for having both the patience and experience to stick to the game plan. Some may argue that it was football from the dark ages, but at the end of the day, it's hard to argue with the tactics when it earns you three points.
After winning eleven matches on the hop, Rodgers was quick to brush off suggestions that this result had anything to do with nerves. Luck has always been a key factor in any title challenge and, unfortunately, it was clear who it was favouring today. "So there were 10 players, from the first minute, behind the ball and we just found it difficult to break down" explained the Reds boss, who continued, "but it wasn't nerves, it was just that final ball and maybe a bit of luck to break through."
Even after surrendering the momentum to Manchester City, it's hard to feel too hard done by. With Champions League football already secured for next season and 96 goals scored, we've more than hit the objectives — if not surpassed them — that would have been outlined long before it kicked off. Either way, this race isn't over quite yet.
"I can tell the players, like I did say afterwards, that I'm so proud of them and the position we find ourselves in, with the money that has been spent at the top end of the table, for us to still be two points clear of Chelsea" enthused Rodgers. "I want to say a big thank-you to the supporters today because they were brilliant. They kept pushing us, but unfortunately we couldn't do it for them."
With two matches remaining, the Reds boss knows that all we can do now is keep our fingers crossed and win our own games; the pressure is now firmly on our rivals. "City will now feel they can go on and win their games. We'll just recover now" explained the Northern Irishman. "We'll focus on the next game, and continue with that positive mentality that we've had throughout the season – because that's the reason why we are where we are."
–Steven