PICTURE: Coutinho and Suarez Show Support for Alves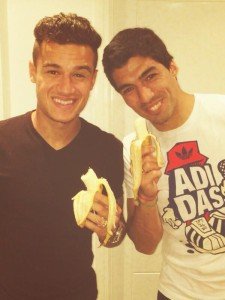 It's not everyday that someone eating fruit is cheered, but when Barcelona fullback ate a banana thrown at him from the stands during the Spanish giants 3-2 win over Villareal on Sunday, the Brazilian's act of utter defiance in the face of yet more racist abuse was greeted with universal applause.
"I don't know who it was, but thanks to whoever threw the banana, the potassium gave me the energy for the two crosses which led to a goal" Alves told the assembled media after the match with his tongue firmly planted in cheek. "I've been living in Spain for 11 years, and for 11 years I've been laughing at these morons."
In the wake of incident — in which the Villareal security staff were able in identify and subsequently hand out a lifetime ban to the guilty party — a number of high profile players from around the world have shown their support for the Brazilian by taking photos eating bananas and posting them on social media with words of encouragement. As you can see, fellow countryman Philippe Coutinho and newly minted PFA Player of the Year Luis Suarez have followed suit.
The Uruguayan, who is well known for his chequered past in which he was handed a eight match for allegedly abusing Manchester United fullback Patrice Evra using a racial slur, has taken a number of positive steps this season to repair his image — and it seems to be working. While it's unlikely that this picture is some sort of PR stunt, throwing your name behind a good cause never hurts.