Rodgers Not Expecting Another Drama Filled Summer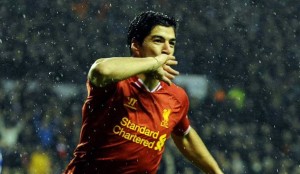 When you have a striker that's scored 30-goals in a season, there's bound to be speculation about his future no matter how settled he might be at his current club. After the drama of last summer and the will he won't he Luis Suarez fiasco, Liverpool boss Brendan Rodgers isn't expecting a repeat of all that.
With Champions League football already secured for next season, and the Uruguayan tied down to a new long term and extremely lucrative contract, the Northern Irishman is expecting a quiet summer when it comes to his prize striker even with mounting rumours that Spanish giants Real Madrid will be coming in with a whopping £70mil bid.
The newly minted PFA Player of the Year is looking a shoe-in to become a legend on Merseyside with both the love of the Kop and his on-field exploits paving the way towards greatness. "Luis understands he may not get the same love he does at Liverpool from anywhere else," said the Reds manager. "From the first year, he knew I would shape the team around his qualities. He loves the city and the supporters. "Also, guys like Steven Gerrard talked to him telling him there was an opportunity to be a legend at the club."
Earlier in the month, Rodgers admitted that securing Champions League football was not only a priority for the club, but a key factor in keeping Suarez on Merseyside. With no less than a top three finish already nailed down, some of the most prestigious opponents on offer will be returning to Anfield next season and Rodgers is looking forward to seeing the Uruguayan maestro on the big stage. "A player of Luis Suarez's ability has to be playing at this level," enthused the Northern Irishman. "His loyalty in staying at Liverpool, to continue to fight for the club to get us there, is remarkable really. Hopefully he gets the rewards for that with those big European nights next season."