Team Oriented Sterling Eyeing World Cup Spot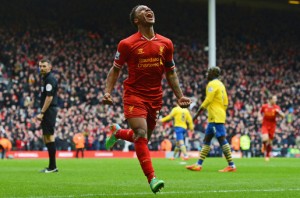 What a difference a year makes; after showing glimmers of promise in fits and starts last season, Liverpool winger Raheem Sterling has made a massive impact over the course of the campaign. As the Reds go in search of their first title in 24-years, the Jamaica born youngster told the world famous Esquire magazine about how he's matured during his time on Merseyside and how he hopes the ultimate reward is still to come.
With nine goals and four assists in 31-appearance this season, it's safe to say that Sterling is staking a claim to his place in the side under Brendan Rodgers. A brace and an assist in the 3-2 win over Norwich City a fortnight ago once again proved that the youngster has the kind of ingenuity and composure needed to play in a top team at the top level, but he'll be the first to admit that he wasn't always so focused on the team.
"I used to be a lot more greedy than I am now — now I'm a bit more for the team" said the 19-year old. "As a young player, you can't be going in thinking you can dribble past everyone. Someone is bound to slide-tackle you or give you a dead leg." That kind of personal growth has done wonders for Sterling this season, and with this summers World Cup in Brazil looming on the horizon, his unwavering form makes him a no-brainer for a seat on the plane.
With Arsenal winger Theo Walcott ruled out and Tottenham upstart Andros Townsend going through a serious slump, the Liverpool winger looks well placed to claim a spot in Roy Hodgson's final squad. "My ultimate dream is to get there," Sterling said of his desire to play in the summers show-piece event. "If I get there, I'll be really happy."