Suarez Happy Both in and at Liverpool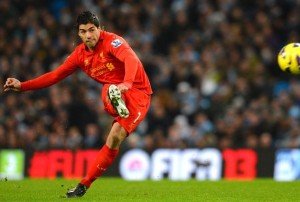 Despite his continued assertions to the contrary, rumours continue to swirl around the future of Liverpool striker Luis Suarez with rumours persisting that Spanish giants Real Madrid will be coming in with a offer for the striker this summer.
The newly minted PFA Player of the Year has been an absolute powerhouse for the Reds this season, scoring an astounding 30-goals — something that would obviously kick up speculation about his future on Merseyside. "I'm very happy here and my family is happy here" he told Uruguayan television station Canal 10. "Don't worry nothing is going to happen to me. If we could win the Premier League and bring the trophy home it would be incredible, a dream come true." Location always seems to be a driving force for South American players who often prefer the warmer climate of the continent, but if Spain or Italy isn't calling quite yet, then it's good news for the Anfield faithful.
Although this isn't the first time Suarez has given assurances over his future, it's unlikely to be the last. With two matches left in the season, he'll be off to the World Cup in Brazil this summer, but before then, he'll be helping Brendan Rodgers side try to secure their first title of the Premier League era.
The Anfield outfit held their destiny — and the title — in their hands heading into last weekends meeting with second placed Chelsea, but a 2-0 reversal at the hands of the Blues left them hoping for third placed Manchester City to drop points. "I'm still upset, it was so frustrating, we couldn't find spaces and we made a mistake and it was hard to deal with," said an obviously agitated Suarez. "We knew the game was going to be hard and tight but it was frustrating when they were using up time."
With a match in hand, Manchester City could very well snatch the title even if Liverpool win their final two matches. "We are hoping Man City loses some points but in the Premier League you never know, anything is possible" he continued. "Now we have to win the next two games and it is not going to be easy."
Even if the Reds miss out on the title, they've already secured Champions League football for next season. With the Uruguayan tied down to a long term contract and one of the many items on his wishlist fulfilled, it's unlikely he'll be going anywhere this summer; not that we'd let him go, of course.