Let's Worry About Ourselves First: Crystal Palace Preview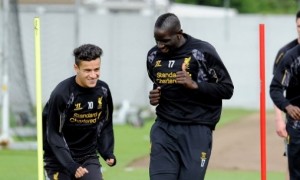 The turnaround at Crystal Palace under Tony Pulis has been nothing short of miraculous; in his very short time in the Capital, he's turned the Eagles from relegation certainties into a surprisingly effective and relatively composed, mid-table side.
This, obviously, comes as terrible news for Liverpool. If last weekend's 2-0 loss to Chelsea didn't put enough of a damper on their title hopes, then their horrible record against teams managed by Pulis will do absolutely nothing to encourage them on their visit to Selhurst Park — except, you know, the fact that should they lose this all important match then they're really out of the race for their first title of the Premier League era for really real this time.
I suppose hoping Everton would do a job for us was nothing short of a pipe dream; don't get me wrong, the Toffee's have really turned a corner under Roberto Martinez, but expecting them to take points off Manchester City was never the best idea.
With the Citizens holding a match in hand, and at this point level on points with us, the title race remains out of our hands for the time being. All we can do is win our last two matches and hope for a slip up from the mega-rich Mancs — and despite our good run of form, there's no such thing as an easy match.
Although a win wouldn't do all too much points wise for Tony Pulis's side, there's little doubt that he's going to hit us with everything that he's got. Crystal Palace have nothing to lose at this point and taking a scalp like Liverpool's in front of their home fans would be a great way to end the season. Pulis, of course, has a penchant for a good pressing game — something he did with great success during his time at Stoke City — and with our error prone backline looking shaky under sustained pressure, we'll likely see the likes of Jason Puncheon and Yannick Bolasie pressurizing our fullbacks.
Moving the ball quickly out of our half will be key to winning the midfield battle, so Steven Gerrard's distribution and the shuttling from Joe Allen and Lucas will be crucial. What will be even more crucial will be scoring goals — for reasons both obvious and not so obvious. Pulis's sides aren't known for scoring too many, but they're not exactly known for conceding too many either. While our front line has been our strongest asset this season, if Daniel Sturridge is missing through injury once again, we could struggle to produce.
You can't win if you don't score, but you also don't make up ground in the goal difference race if you don't score either. At this point in time, Manchester City bolster a superior goal difference, and with the title able to be decided on that alone, it's important that we try to make up at least some ground — if not only for entertainment value, but for the sole fact that you never know what's going to happen.
Taking a cursory browse around social media, you'd think the season ended today; well, it hasn't. Everton didn't win — get over it. If we are going to win the title, we have to rely on us and us alone. We can save worrying about Manchester City and Chelsea for midweek. For now, let's just smash Pulis and the Eagles before we go counting points and cursing Toffees.
–Steven