By the Numbers: Liverpool vs Crystal Palace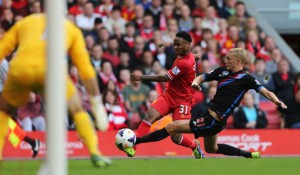 Thinking back to the reverse fixture, the tone of this post could have been so vastly different had Crystal Palace not experienced such a seriously profound turnaround.
Liverpool may have topped them 3-1 in the reverse fixture at Anfield to go top of the table, but the second half hangover the Reds came out with would have been unequivocally punished by a side with even a modicum more composure — which, in short, means that Tony Pulis's side, even though they're not exactly attacking powerhouses, would have taken advantage. While Brendan Rodgers has overseen both a tactical and mental evolution on Merseyside since their old nemesis did the double over them last season, the numbers that the former Stoke boss continues to put up in the Capital shows that he's not about to begin messing around.
On paper, you can see a serious gulf in class between the two sides. While Liverpool go in search of the title, the Eagles are hanging out mid-table with a -15 goal difference putting a serious yawn on their season. 28 goals in 36 matches isn't going to set anyone's heart racing, but it all doesn't seem so bad when you consider that they were nailed on to go down before Tony Pulis took charge — and, of course, that they've conceded 3 less goals than the team at the Premier League summit.
I'm not sure that anyone would tell you that Crystal Palace 'keeper Julian Speroni is better than Liverpool counterpart Simon Mignolet, but looking at the numbers, it looks a bit skewed, doesn't it? Maybe this has more to do with the Reds defensive frailties and their sometimes willy-nilly approach to defending, but the Argentine has put up some impressive numbers in the face of some serious opposition — and often times, in spite of the quality of the players in front of him.
If trends continue then Mamadou Sakho should keep Reds vice-captain Daniel Agger out of the side. One has to wonder if Liverpool's defensive record would have been better hadn't been ruled out with a hamstring injury for so long. Although Damien Delany has played more matches, therefore having far more chances to make mistakes, Sakho remains the better defender on paper — one only needs to look to pass accuracy and duels won to see that. You can, uhhh…avoid defensive errors though.
Steven Gerrard's re-purposing as a deep-lying playmaker has been going swimmingly for both him and the team as a whole. With 10 assists to his name, the 33-year old has been contributing in a big way and his 86% pass completion rate includes some of the most spectacular and probing we've ever seen from the lifelong Red. Jason Puncheon, in a similar vein, has been having a barnstormer for Crystal Palace with seven goals propping up the Eagle's bid to stay in the Premier League and his 1 defensive error looking piddly in comparison to the far more experienced Gerrard's 5 oopsies.
Remember when Marouane Chamakh was a big signing for Arsenal and everyone was going nuts over him? That didn't quite work out then and he's not quite working out for Crystal Palace now. With a mere 5 goals in 30 appearances for the Eagles, the Moroccan international hasn't had the best of seasons. When you line him up against youngster Raheem Sterling and his 9 goals and 4 assists in only 1 match more, you wonder how back Chamakh is and how good the Liverpool attacker is actually going to get.
–Steven
All the Liverpool and Crystal Palace stats are courtesy of Squawka. Hit them up if you like to get your math on.