Lucas Enjoying Familiar "Diamond" Role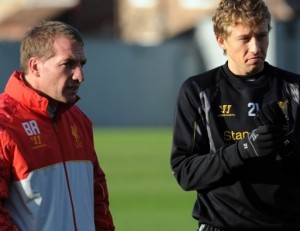 With Jordan Henderson suspended and Lucas back to full fitness, the Brazilian is enjoying his football and getting a good run in the side — though not in his usual holding midfield position, but as part of the midfield diamond.
Although it's weird to see Lucas not playing the destroyer role, he told the official Liverpool magazine it's a familiar place. "I played there for Gremio," he was quick to point out. "We used to play a lot of time in a diamond." With Steven Gerrard deployed as a deep-laying playmaker, Lucas had to re-adjust to life in the system. "It's pretty much the same Brendan asks here if we play in a diamond. Yes, you have to look after the full-backs and, when the ball is on the other side of the pitch, help outside the holding midfielder. You also have to keep the ball but contribute to the attack."
It came as a bit of shock to the footballing world to see Gerrard deployed in a role that was a-typical of his usual all action displays, but Lucas was given fair warning not only about the skipper, but to his own future role within the side.
"We sat down in January, where he explained that he wanted to use Stevie as a holding player and me on the side of the three midfielders or the diamond. I had to re-adjust" he continued. "It's something I feel comfortable with. Of course, as much as you play you feel even more comfortable. You know you can help more. Football is like that."
With Gerrard excelling in his new position, Lucas has accepted that he won't be going back there anytime soon. "The team is doing so well and it is difficult for the manager to change things. You understand that" said the Brazilian. "I know that the only way is to train hard and prepare. Lots of players this season have had chances when they did not expect it." Adaptability is something that Rodgers values quite highly and Lucas will need to show it if he's going to have a future at the club — and it's so far, so good.