Liverpool (3) Crystal Palace (3): MOAR VODKA. MOAR BEERS.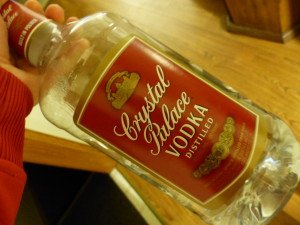 I believe the appropriate phrasing, if I were to use the typical cliche, is "it's all gone a bit sideways for Liverpool"; that doesn't accurately portray the situation at all. If the trip to Selhurst Park came on the back of rough waters, by the time the final whistle was blown, it felt like we'd capsized. I don't know about you, but I don't swim all that well — I can drink like a fish, but this is where the sailing and/or water related metaphors end.
And, it's with that disjointed sentence that I pull the plug on even attempting to do this right. By the 55th minute, being a blogger and all that, I should have been working on an opening paragraph, or in the very least, thinking of a half decent title for this post. Hell, I could have been enjoying the match and not worrying about this crap at all until well after the final whistle, but no, that's not what I was doing at all.
I may have been the only person on this lonely blue planet of ours sweating a three goal lead.
I'm not going to relive this match for you; those of you who even pop in here infrequently I appreciate more than words can express, but even when we were three goals to the good and looking for more, I knew there was something terribly, horribly wrong and recounting that in the typical match reaction fashion that you've come to expect from me just isn't on.
Tony Pulis has never lost to the Reds at home. Ruminate on that for a minute and come back to me in a paragraph or two. Trust me, this late in the day, after working a 12-hour shift and doing my absolute damndest to drink just as many beers, you're going to want to skim, or altogether skip, this more than read it anyways. I have no grand illusions about being a competent writer, let alone a half decent one, but this will surely be a terrible ramble.
Three goals up and we should have been cruising — or in the very least, looking for more — but it was that moment when the Palace fans — who I'm not ashamed to say made a wholly entertaining racket in the first half — forgot about supporting their own team and decided to instead jump on the bashing Steven Gerrard — a player that has accomplished more in one season than they have in their entire existence — bandwagon that it all felt like it was going to go up in flames.
Damien Delaney's strike deflects in off Glen Johnson and you know that's not the last one. Why? Because — that's why. For some reason we can score just shy of 100-goals and go top of the table with a mere match to play and it's still not going to break what's sure to become a 25-year duck. Dwight Gayle is on the double as our inexplicably terrible defence — is is it luck? or just plain old fate? — sees the hosts send it all crashing down around us.
Three goals in eleven minutes and the vultures are swooping around a distraught Luis Suarez trying to see who can get the best picture of his tears. I don't think I'll ever be so sad to go top of the table and it's unlikely he will either; what's really terrible about all this is that we haven't lost the title yet. We're still not out of the race — Manchester City have two matches left to play — but you can't help but feel deflated knowing that all they have to do is win, and with a squad that's worth more than the entire GDP of Africa, they'll do it.
#FirstWorldProblems? #TopoftheLeagueProblems?
Here's the thing, things are good on Merseyside. There's too many positives to name right now, and if you need me to tell them to you, then you're doing it absolutely wrong. We're likely to miss out on the title, but that's not the end of the world. Not by a long shot.
We should have never been here in the first place. After finishing seventh last season, fourth should have been the absolute pinnacle for us. If we finish runners up, it'll be a spectacular achievement and one that should be celebrated and not mourned — even if I'm not practising what I preach right now.
Looks like both you and I need to grow a brain — and I'll do just that, right after I crush some more of this aptly named Vodka.
–I is drunk.