Rodgers Felt Pressure to Secure Champions League Football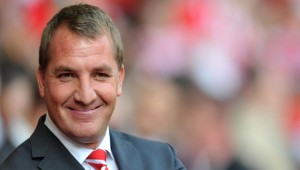 With the club making a triumphant return to the Champions League for the first time since 2009, Kopites everywhere are relishing the prospect of those famous European nights returning to Anfield next season. Although the task was completed with matches to spare, that doesn't mean that Liverpool boss Brendan Rodgers didn't feel the weight of expectation bearing down on him.
With exile from the continent straining the club both financially and from a recruitment standpoint, priority number one for the Reds boss was making sure that the club got back into Europe's most prestigious — and lucrative — club competition as soon as possible. "I left pre-season in a good moment, finished with a real team spirit and at that point we were clear we wanted to fight for a Champions League position," the Northern Irishman told the clubs official website. "It was a huge challenge, purely because of the size and greatness of the club."
With the shadow of Liverpool's five European Cup triumphs hanging over his head, Rodgers knows that glory on the continent has been a defining characteristic of any successful Reds team — but in order to challenge for the trophy, you have to be in the competition. "It was five odd seasons since we had played at that level and the investment that goes in and what teams were spending to try to get in there, never mind stay in there, was obviously significant, so for us we knew it would be a big challenge" he continued. Money, as Morrissey once said, changes everything.
With a second place finish secured and a Champions League berth already secured, the Reds boss has had a second to reflect on what his side have accomplished over the last twelve months — and the verdict is a good one. "They have had their best season for 24 years and my own belief is that it is the start of a golden era for the club," enthused the boss. "They have established themselves as a team before the best and winning the league again will be just a matter of time."
Don't worry Brendan, we're all keeping an eye on our watches…